Edoardo Caroli and Ilario Salvemini are the founders of Turbe Giovanili (Youth Turmoil), a project created by young people for young people with a passion for politics. Stemming from the idea of voicing the thoughts of youths on topics like the future of the European Union, feminism, gender equality and the effectiveness of current schooling systems, Turbe Giovanili provides young people with tools to raise their concerns and to show to the community what priorities are according to them. The project began as a podcast and developed into a platform for all the young people who want to speak up but don't know how to do it.
The two ACT NOW Youth Network members had met in late 2018, when Ilario was an intern at the European Policies Office of the municipality of their town (Ravenna, Italy), while Edoardo was just returning from a work experience at the European Commission in Brussels. They both got involved in a selection process organized by the municipality for a project called "Europe" with the final aim of creating a small group of youths passionate about the EU to deliver classes to pupils in all the schools of the town.
"We got to know each other better throughout this teaching experience, however, we have to admit that it was love at first sight, in a way. We could understand each other in a blink of an eye, and we shared the working method. This very last aspect eventually turned out to be crucial when trying to capture the attention of twelve year olds while talking about history and geography of the European Union", they share.
Both Edoardo and Ilario had strong reasons to proactively involve youths into a learning process going beyond the EU: "We wanted youths' voices to be heard from politicians starting from the local level. That is how we created Turbe Giovanili."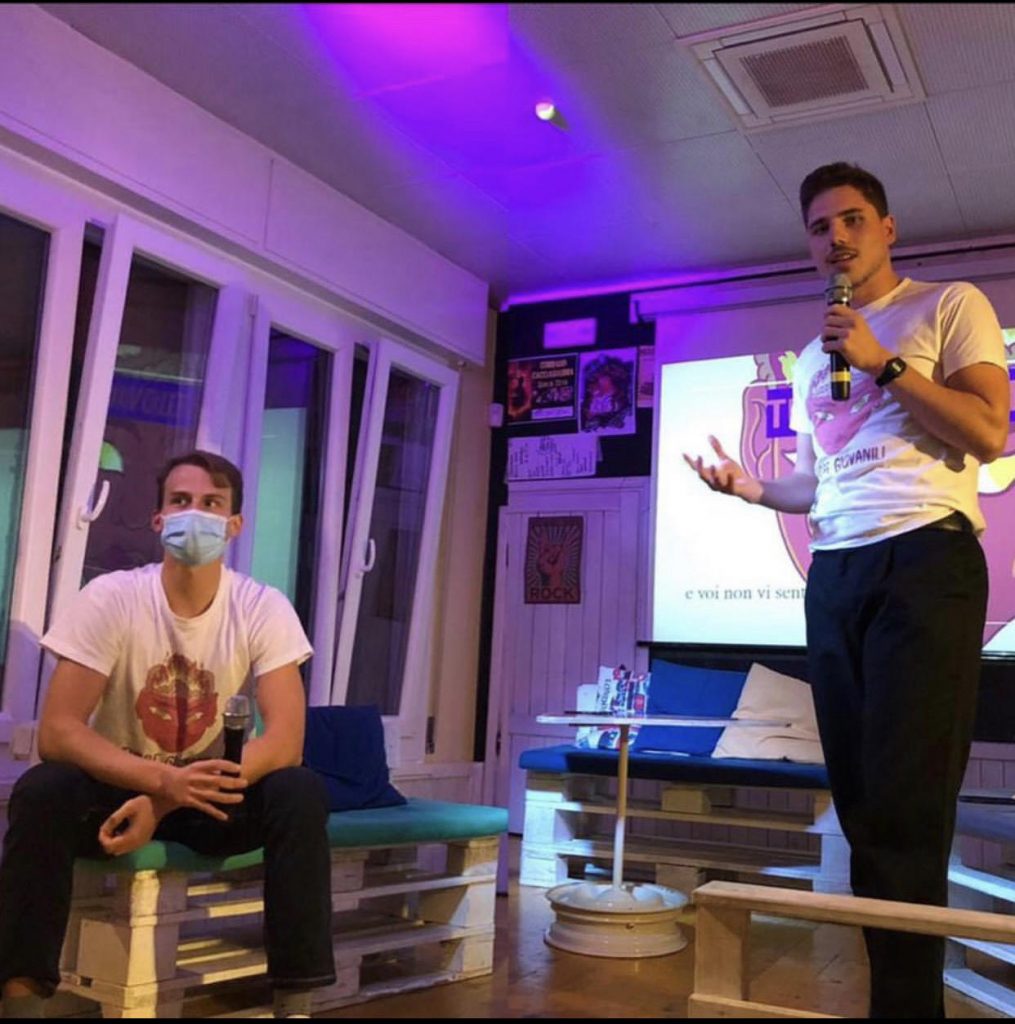 Turbe Giovanili taught them an important lesson which they confess to currently keep on experiencing: "When it comes to putting into practice an idea you have in mind which consists of involving a group of people convinced about having an impact and to become change-makers, surprises are always behind the corner".
While Turbe originated from the minds of Edoardo and Ilario, several people got involved so far by borrowing their energies, endeavours and faces to the project. Specifically Asja and Alessia, two highly motivated and unsatisfied high school students, have been working on increasing the engagement with Turbe followers on social media. Many other youths also have their space in Turbe as responsible for features in the Instagram stories where they contribute by bringing their personal opinions on topics such as mental health, gender equality, sustainability and many more. This is just a small bite of what the Turbe Giovanili world is about and its ways of making youths voices count at the local level.
We spoke with Edoardo and Ilario about the inception of Turbe Giovanili, about the way friendship factors into creating successful local initiatives and we explored how youths can build more resiliency and grit as they grow into adulthood.
What are some of the most important lessons you have learned about friendship and working together with a friend?
It is common to hear about conflicts, discrepancies and frictions occurring for several reasons among team members. Often those lead to breaks, deep changes and failures. This becomes even more common when the team is composed of friends because it is challenging to maintain friendships while doing business. Either you take care of one or the other, it is close to impossible to have both.
But you may be surprised to learn that within Turbe Giovanili and our daily lives we are the exception that proves the rule. "Partners in crime and beyond", this is how we often consider ourselves.
How can we use podcasts to unpack difficult conversations around everyday topics youths face?
Radio's power is to focus listeners to the speakers' voices and opinions. Then we only needed to carry out normal conversations among friends in a radio studio in front of a microphone and wearing headphones.
To create popular podcasts, simply give a microphone and a recorder to youths while they speak about relevant topics.
What should kids and young people learn more of at school?
They should learn more about real life, about the huge issues that affect our society in all its aspects. More specifically youths should be aware about climate change, gender equality, functioning of politics, etc.
We must consider how youths can develop critical thinking day by day. Young generations, especially in Italy, should be better prepared for facing the challenges of the near future. That concretely means choosing to continue with university studies or turning to work. Youths should learn to invest time and energy on themselves and to be more aware of their potential and future aspirations.
What is a very useful app right now that I should have on my phone?
TooGoodToGo is definitely an innovative app that not only everyone should have on their phones but that should spread as much as possible. Basically it aims at reducing food waste produced by restaurants and shops by daily allowing clients to purchase leftovers at a reduced price. Regrettably it is an app known in big cities only, nonetheless we would do our best to make sure Ravenna keeps up with innovation and sustainability!
What do you like to read about?
Ilario is a big fan of the Polish sociologist Zygmunt Bauman. He is doing his thesis on his works, so he could probably advise you to read Liquid Life and Retrotopia that for him, most of all, represent his masterpieces. He is a regular reader of politics, even if in this period it's really difficult for him to follow all the things that are happening because he has to finish before the exams and the thesis.
Edoardo is passionate about adventures and explorations. He dreams while reading Jules Vernes' books and comes back to reality when approaching biographies of nowadays explorers challenging nature in all of its forms (climbing mountains, crossing deserts or even oceans and entire continents). Amongst many, the most recent book by Colin O'Brady is stunning because it can really transmit through paper and ink a strong motivation to face difficulties and to cultivate the desire to push beyond the limits set by our mind.
What podcasts should we listen to right now?
"The Essential" and "L'Europa dei Popoli" are two initiatives we appreciate.
What makes you most concerned in today's world? What about – most confident?
We are worried about all careless youths, about all our peers' future because they seem to not care about what surrounds them. Certainly it is easier to sit on the sofa and to complain rather than standing up and getting actively involved. Our daily fuel is the idea that youths must represent themselves instead of letting adults do the job.
Therefore, we are afraid about the silence on deprivation of the young people and we are quite confident to be able to change things with our actions. But by reading all of the above-mentioned text we gain confidence. What we wrote comes from our minds and hearts. We are aware of who we are and where we want to go, always together.
According to you, what is innovation in politics?
Innovation in politics is allowing youths to represent themselves in local, national and european institutions and confront contexts in original ways aimed at improving the system currently in place. Our political campaign in Ravenna will be based on this approach. Youths contributing together for a shared goal: making our voice louder and louder. Innovation is the result of youths becoming actively engaged in what makes them feel passionate, and can have several forms by exploiting the means available or by creating new ones. Innovation is grouping youths' voices under a single umbrella to make them sound louder and stronger. Youths are the synonym of innovation.
What are your future plans?
We will set up our own political campaign in view of autumn's local elections. We believe that youths' power generates from facing the unknown. We are all filled with untapped potential waiting to be discovered.
THE ACT NOW YOUTH NETWORK
The ACT NOW Youth Network is a community of young citizens from Europe, the Middle East and Northern Africa between the ages of 18 and 30. The network provides young people with the necessary tools to become local changemakers and support them in their common goal of strengthening social cohesion and improving how we live together in communities, as well as taking action against division and polarisation.