Johannes Tödte is Head of Communications at ProjectTogether, a not-for-profit enterprise based in Berlin, which connects organisations to work better together to tackle society's biggest challenges. Johannes tells us about the impact of their latest project, Alliance4Ukraine, which emerged in the days after the war in Ukraine started.
What does Alliance4Ukraine do?
It is a coordinating alliance which now consists of over 450 civil society organisations, foundations, governmental institutions and businesses with the aim of bringing together all the help that is needed for refugees right now – arriving from Ukraine but also from other countries.
There are so many NGOs that are working on migration and integration problems, so we see it as our mission to support them and bring them together in one coordinated process in cooperation with federal, state and local authorities.
How did it start?
In the days after 24th February, we (at Project Together) were shocked and wanted to find a way to help. After speaking with several NGOs, foundations and other partners, we agreed quickly that the most important thing is to coordinate – that meant not starting new initiatives, but strengthening the structures already in place.
We knew that we needed the cooperation of the government, businesses and corporations in order to tackle the challenges that come along with this crisis. That's when we started the Alliance4Ukraine. It grew very quickly – in our first digital meeting at the end of February, we already had 80 participants.
What do you need to get a project like this off the ground?
The most important things are to have a common mission and to provide trust and an open mindset ready for cooperation. When you have that you can bring people together, even from very different backgrounds and sectors.
That said, it's crucial to bring to the fore the perspectives of the people who are affected – in this case, the refugees arriving from Ukraine affected by the war. They are not just beneficiaries – it is important to see them as equals and to communicate on a par with them in order to understand the structural challenges.
How do you connect organisations?
Mostly digitally via tools such as Slack or Zoom. We regularly had around 150 participants in our digital matching calls. This gave experts a platform to bring topics into the limelight and present their knowledge and key challenges to stakeholders from the state or businesses. Then we met in breakout groups for different topics to bring organisations together. The idea was to build a platform with lots of opportunities to organise collective action efficiently and meet urgent needs quickly.
Recently, we shifted our focus to building and strengthening cross-sectoral cooperations in fields such as integration into the labour market, housing or volunteering. For this aim, we will continue to work very closely with our community.
What impact has Alliance4Ukraine had?
We have connected organisations in all sorts of ways. To mention a few, we helped link up NGOs and projects with FlixBus, the bus corporation, so that refugees have the right transport connections leaving Ukraine. We matched a Ukrainian NGO with a Swiss NGO, @Fire, where firemen could provide and deliver fire tracks. We also helped create a hotline for Ukrainian refugees through Vodafone, who could quickly provide the infrastructure for a free hotline so that refugees could find out all the most important information on their arrival in Germany.
Recently, we launched the online platform patentmatch.de that provides for the first time a digital interface for all existing buddy programmes in Germany: Refugees arriving in Germany can now quickly find a local and reliable partner who helps them in their arrival process.
And you organise funding too?
Yes, we set up a donation fund for the Alliance4Ukraine. We have a live count of the funding received and we have now reached almost 1.5 million Euros.
So many organisations need money quickly for the most urgent needs. To access money through grants or foundations can become complicated – but this fundraising tool means we can hand out money very quickly to the NGOs that need it right now.
To make sure that the funding money goes only to the organisations that provide the work and have proven their quality we have an advisory board so we can meet with experts to assess the needs and meet the best decisions quickly.
You also work together with the German state on Alliance4Ukraine?
Absolutely. We are convinced that it's not about taking away the responsibility of the state but finding ways to work together efficiently as a society to tackle our biggest challenges. For this we need innovations – and innovations emerge and grow more easily in the private sector or civil society. There are so many solutions out there already. So the actual challenge is about supporting these solutions in a way that our public infrastructure can implement and scale them for the benefit of all. Since #WirVsVirus, working with the government we found much more openness than people might expect.
What is the next challenge ProjectTogether will face?
I think it's how to keep up the public interest in the war – and the social and global issues connected with it – while also tackling problems or crises that are still so current and complex but are not in the limelight at the moment. We work on some other projects too: Circular Futures is a programme about circular economy and Farm-Food-Climate Challenge develops solutions for a sustainable agricultural sector. We have to continue to identify what the best approaches are, and empower the best solutions for that in cross-sectoral networks
Explore the Alliance4Ukraine project.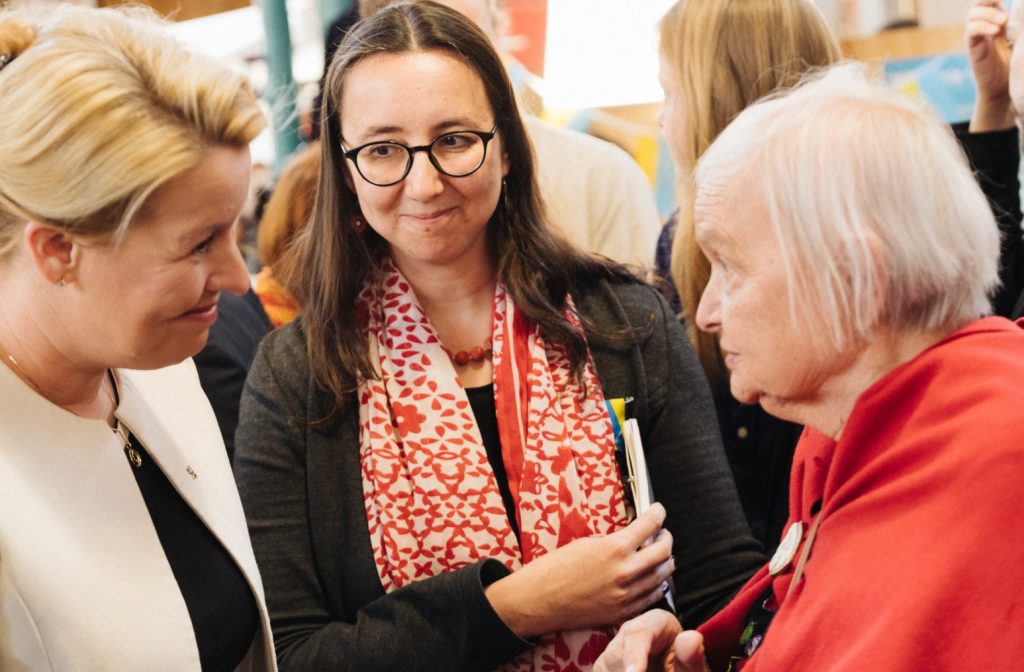 You can also read Johannes Tödte's article about ProjectTogether's Covid-19 programme, #WirVsVirus here.