Looking back at 2020, what will you remember? For us, it will be the innovative spirit of politicians across Europe. And how we celebrated The Innovation in Politics Awards without an actual celebration.
On 4 December 2019, at around 12 noon, guests started arriving at the Westhafen in Berlin to participate in our exchange conference Politics, Coffee & Cake. Whilst the last Awards books were placed on tables and countertops, table hosts were reading through their briefing documents, musicians were getting ready to play. Everything we had prepared during the previous months was coming to life.
In 2020, everything was different. We knew early on that we would not be able to celebrate The Innovation in Politics Awards with live events as in the previous three years. Instead, we had to find a physically distanced way to honour the finalists and winners – whilst keeping up the spirit of the Awards. We wanted to put this year's most innovative politicians centre stage and give them the recognition they deserve. But how?
The Web is the Limit
The digital sphere was the obvious choice. So we thought: What can we do digitally that we cannot do physically? What can we do in the vast universe of the worldwide web that is not possible at an event venue?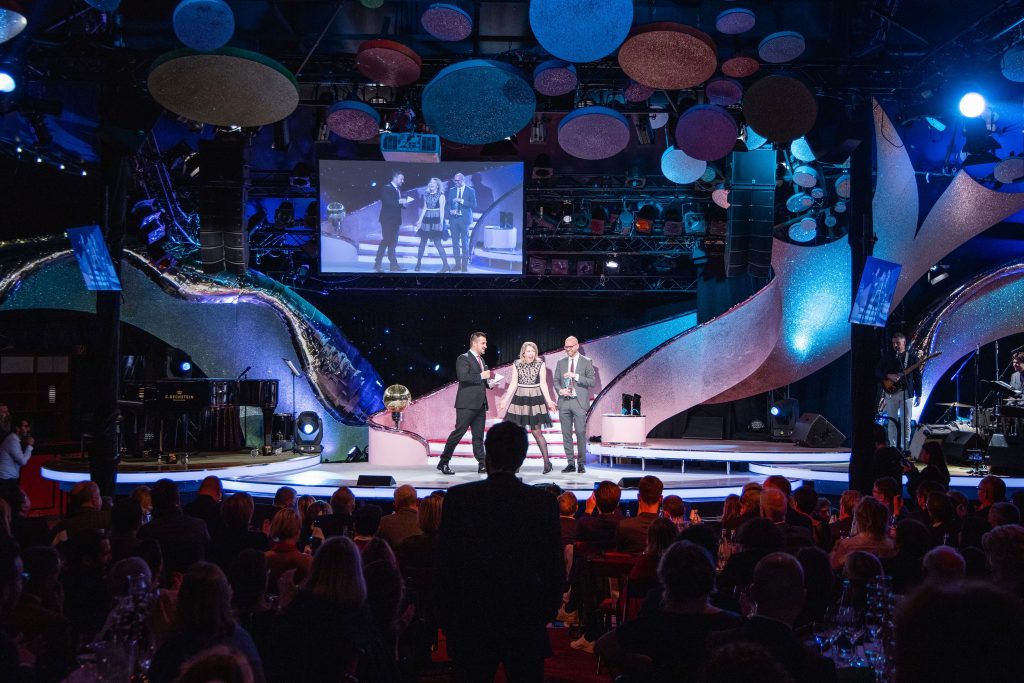 2019, at the Gala Evening following the conference, over 500 people gathered at the Tipi am Kanzleramt for an entertaining programme including the Awards presentation, short videos, keynote speeches, live music, food, and drinks.
In 2020, thanks to social media, we thought 500 people could become 500.000. Or maybe even more! And this was something we could give the Awards finalists and winners: visibility. Europe-wide and, even more importantly, locally, with their peers. Visibility among the people they care about.
Bespoke Communication Tools
So every finalist received a short video to use on their respective website and social channels for presenting their project. Additionally, we published a series of teaser videos to increase awareness about the Awards and the submitted projects.
That was straightforward enough. But how about the winners? There was no way we could recreate that magical moment at an awards ceremony in which the presenter says: "And The Innovation in Politics Award 2020 goes to …" Or was there?
Creating Meaningful Connections
In the end, we created an individual ceremony with every winner: We invited them to video calls, under the pretext that it was about some organisational matter – a big shout out to our country representatives who arranged these calls. We recorded the calls to capture the winners' reaction to the announcement of their success.
Additionally, we organised, again with the help of our country representatives, speakers to congratulate them. Here it was important to find personalities who are well-known in the respective winner country. These words of congratulations were kindly sent to us on video, others we recorded in video calls.
Thirdly, an animated 3D video was produced to introduce each winning project.
Admittedly, up until our first winner announcement call, we did not believe that we would be able to surprise anyone. But against all odds: the emotion came across. Every single time. And when we saw the first finished film, we knew: we had something there.
While in the previous years our work was rewarded by seeing everything come together and celebrating with everyone, this year held an unexpected surprise in store: being able to have a qualitative conversation with our winners and learning something new every time.
Instead of presenting the winners one after the other on a stage, we posted the nine winner videos on our website, on YouTube, LinkedIn, Facebook, and Twitter. Directly one after the other so the winners could start sharing them straight away.
And they did. There might not have been physical applause. But there was a ripple of attention on social media. Of course, it is not the same. However, we were able to reach a total of 3 million people across Europe.
We are amazed by how many people joined in the celebration online. However: we are also looking forward to touching glasses with everyone in person again.
Talking about lasting impact: All finalist and winner projects of The Innovation in Politics Awards are included in our Best Practices in Politics database & online platform. Our current Showroom will soon be replaced by something even greater … so watch this space!