This is the second blog article of a new series on the innovation of political parties.
As previously mentioned in our first blog article, innovation is not just about how political parties can be more successful, but about the future of democracy as a whole.
Any party can be innovative at times. But one fortunate coincidence strongly differs from managing ideas systematically and strategically, whether they are related to policy, organisational aspects, or to behaviours. In the business world, the relevance of strategically managing innovation is widely acknowledged: existing literature on highly innovative organisations like Apple, P&G, and others provides great examples. More innovative companies are more successful. We believe this to be the case for political parties, too.
Political parties need an innovation strategy
But how do you find great ideas that can advance your party? The key is to develop an innovation strategy.
A strategy is a high-level set of coherent structures and processes aimed at a specific goal. It helps leaders define objectives, make decisions and allocate resources accordingly. Thus, an innovation strategy helps an organisation to build a coherent set of processes and structures that define what innovative solutions to given problems look like. Here are six examples from the business world, from Tesla, airbnb and others.
Therefore, for a political party, the first question is which specific objectives it wants to achieve with its innovation efforts. When answering this question, party leaders and operatives need to go beyond vague, political explanations and be specific about which types of innovation (behavioural, policy, organisational) are needed to increase a party's performance at the voting booths.
After having defined what the party wants to achieve to be more successful, the next step is to source ideas. Since innovation is a numbers game, there is one key principle from the outset: the more ideas, the better.
Developing the political innovation funnel
The more ideas an organisation is able to source, the higher the chances of finding the few ideas that can boost the party's success. In order to do this systematically, we encourage political parties to develop their own innovation funnel.
An innovation funnel is a tool that helps political parties to innovate successfully. The idea is simple: which steps are necessary to find innovative ideas, screen them for their potential, select the best ones and successfully develop and implement those ideas?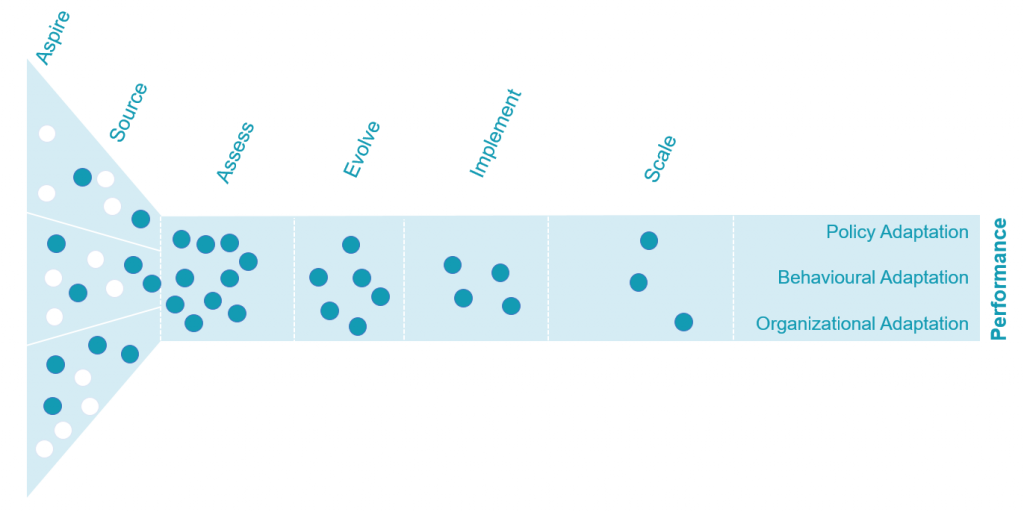 Managing the innovation funnel in politics involves six phases.
PHASE 1: ASPIRE
During the initial phase of the innovation funnel, leadership plays a critical role because it flags new ideas as important. When leaders make the importance of innovation explicit, this serves as an indicator for senior managers on how to deploy resources internally.
PHASE 2: SOURCE
For every great idea that comes from inside or outside the party, there are dozens of other ideas that prove to be less valuable. To increase the likelihood of identifying great ideas, political parties have to open the innovation funnel and source as many ideas as possible.
PHASE 3: ASSESS
After collecting many ideas from inside and outside the organisation, it is time to focus on quality and assess all incoming ideas. Therefore, party operatives and leaders need an assessment method or framework to select the best ideas. This can take the form of a specific framework or method, but also of a specific structure (e.g. an innovation assessment board).
PHASE 4: EVOLVE
To boost the development of new ideas, political parties need to provide the necessary resources for each innovative idea (e.g. access to special innovation budgets, internal project sponsors). At the end of this phase, a user-centred prototype of the idea, which can be tested with internal (e.g. staff, volunteers) or external (e.g. voters, interest groups) stakeholders, is developed.
PHASE 5: IMPLEMENT
After the prototype has been tested, this innovation has to be implemented in the political party. This is often a difficult endeavour as it may be a significant effort for the organisation. It is not only meant to convince party operatives as well as volunteers, but also voters. Again, leadership support is essential in this phase.
PHASE 6: SCALE
Some innovations, e.g. campaigning apps, need to be rolled out across the whole party. Therefore, senior leaders must not only provide extra resources, but also capabilities to make the innovation accessible to the greater community.
---
Our next article will be a deep dive into the specific areas in which a political party can be innovative.