José Manuel Ribeiro
- Mayor of Valongo, Portugal
8 May 2020, 9.00 am (CET)
Learning from the present and preparing for the future
After the first turbulent stage, we face a "new normal" to keep the virus under control. In our 3rd NOW Mayors Webinar we discussed what scenarios and challenges can be expected in the coming 3 months and what municipalities are currently preparing to tackle them. Our learnings from the crisis will eventually result in taking the next steps.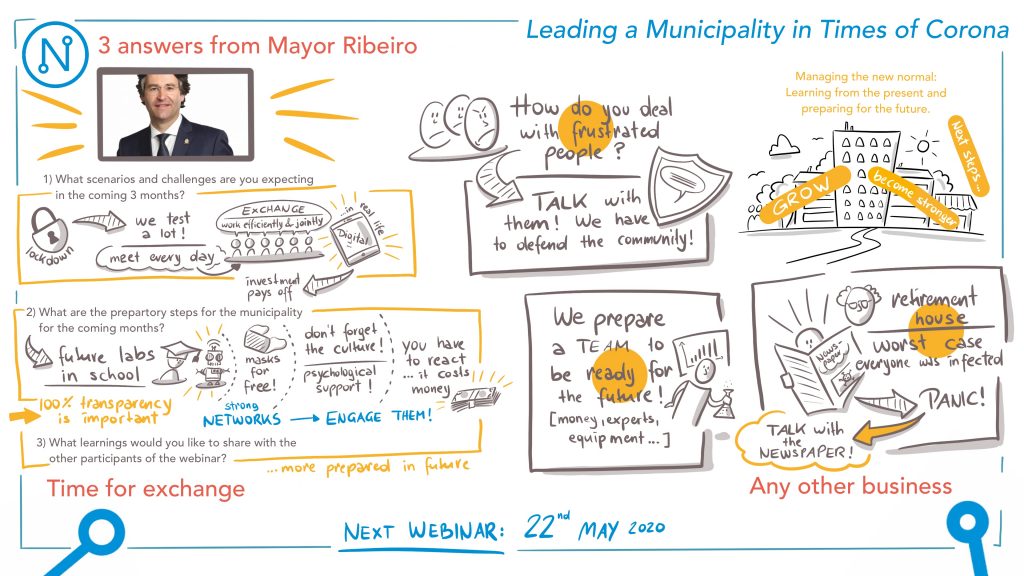 José Manuel Ribeiro, Mayor of Valongo shared several key messages which can help municipalities to think one step ahead.
Meet every day with all people involved (doctors, politicians from all parties, administration, civil society organisations and associations) to guarantee transparent and honest communication.
Newly established communication networks or special crisis teams in the municipality should be maintained to develop resilience in the future.
We should not underestimate the mental challenges of the lockdown. Psychological support and continually speaking to those frightened or frustrated is imperative.
Even if it takes a lot of effort, the investment in the digitalisation of the municipality and the enforcement of digital literacy of all citizens will eventually pay off.
You have to have the courage to take decisions even if facts are incomplete.