The Innovation in Politics Awards 2021
This year, for the fifth time, politicians from across Europe will be recognised for their creative and courageous political projects that improve our lives as citizens. The Awards are presented regardless of party affiliation and political level, based on our European values of social balance, democracy, and human rights.
A jury of 1,032 European citizens evaluated 413 political projects and selected 90 finalists and nine winners. At each of these nine events, we will honour their achievements so they may serve as an inspiration for others.
Meet the politicians who are currently shaping democracy in Europe, get inspired by their success stories, and celebrate them together with us.
Discover the Finalists in the Economy Category
About the Innovation in Politics Awards 2021 Event Series: Click here to print the pdf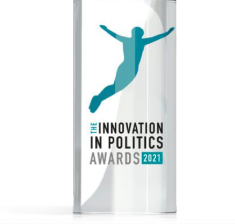 In cooperation with Arena Idé

Your day at the Innovation in Politics Awards 2021 in Stockholm
POLITICS, COFFEE & CAKE & AWARDS CEREMONY
1 pm Doors open | 2 pm – 4 pm Conference | 4 – 5 pm Awards Ceremony & Networking
Venue: Fotografiska 
Stadsgårdshamnen 22, 116 45 Stockholm, Sweden
The finalists present insights into their work in a lively exchange format, facilitating direct dialogue with political professionals, experts, and representatives of the business world and media. Allan Larsson, former Finance Minister of Sweden, will present the Award to the winner followed by informal networking and culinary delights.

Guest of Honour: Barbro Westerholm, MP and former Director General of the Swedish National Board of Health and Welfare.
[9cities_event_registration afternoon_eventid="2138830346" evening_eventid="2138830352"]
Covid-19 Safety: To ensure the safety and comfort of all attendees, please be ready to show proof of your full vaccination status or recovery from Covid-19. Should additional measures be mandated by local authorities at the time of the events, we will let you know. We are grateful for your cooperation.