THE WINNERS AND FINALISTS OF THE INNOVATION IN POLITICS AWARDS 2021
The Innovation in Politics Awards 2021 were presented in a series of nine ceremonies hosted in cities throughout Europe between December 2021 and February 2022. Now in their fifth year, the awards honour the most courageous and creative political projects throughout Europe.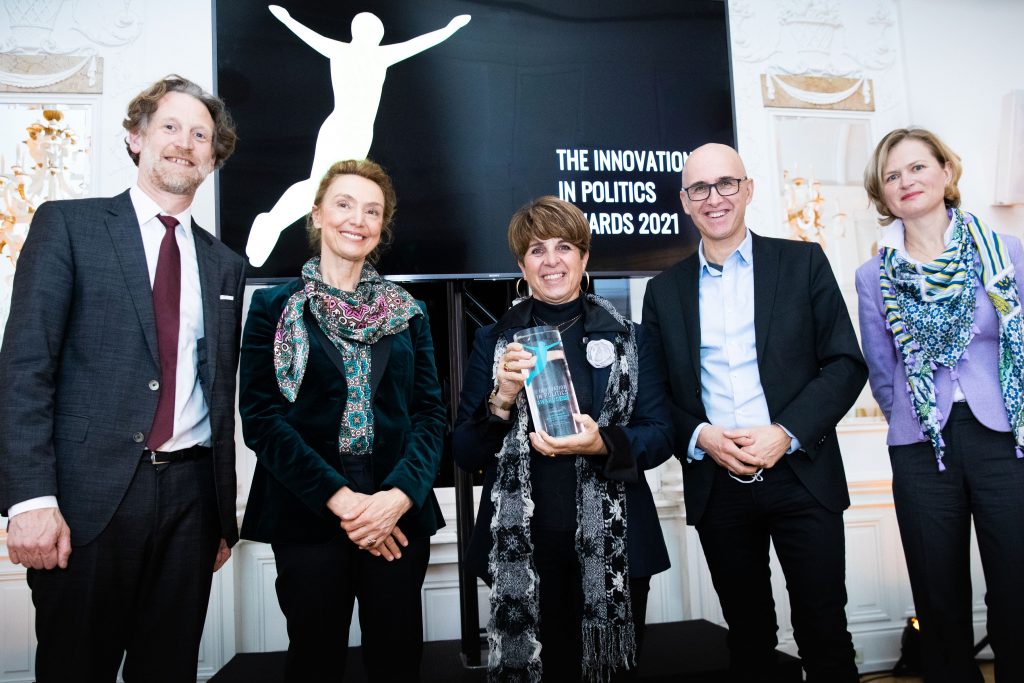 A jury of over 1,000 European citizens selected 90 finalists and 9 winners from the categories Community, COVID-19, Democracy, Digitisation, Ecology, Economy, Education, Human Rights and Quality of Life. In the second year of the pandemic, the nominees and winners once more demonstrated how bold new solutions can transform our communities for the better.
Community: NEIGHBOURHOOD BERN
Volunteers are individually connected with people living within a 15-minute walking distance who need support with everyday tasks, strengthening local solidarity and neighbourly relationships.
COVID-19 STRATEGIES: BRAKE THE CURVE
The Government of Aragon enabled the creation of platform that channelled the spontaneous civic initiatives that arose as a response to the humanitarian crisis resulting from the COVID-19 pandemic.
DEMOCRACY: SHE – See Her Elected
This community-led initiative supports women into politics in rural areas of Ireland, strengthening local and national democracy by increasing the diversity of political participation.
DIGITALISATION: +RICICLI +VIAGGI – THE MORE YOU RECYCLE THE MORE YOU TRAVEL
A novel approach to recycling sees plastic bottles exchanged for discounts on public transport tickets in Italy.
ECOLOGY: RIJNVLIET EDIBLE NEIGHBOURHOOD
Participatory co-design creates a residential neighbourhood around accessible urban agriculture, enhancing the quality of life for inhabitants and the rich biodiversity for all living things.
Economy: Summer of Pioneers, Wittenberge
A small but well-connected town attracts young remote workers to the area by offering them a year in discounted accommodation and access to a co-working space.
EDUCATION: Launching KOOD/JÕHVI – A new kind of coding school!
This new coding school gives young people in Estonia's northeast an opportunity to learn skills that are in high demand, opening the way to new career paths.
HUMAN RIGHTS: Social Laundrette in the Municipality of Chania
The first social laundrette in Crete provides socially vulnerable citizens with the facilities to wash their clothes and take care of their personal hygiene, as well as a sense of self-worth and belonging.
QUALITY OF LIFE: PROJECT ARRAIGO
A social enterprise facilitates the transition from urban to rural living by working with rural communities to help them integrate new arrivals.