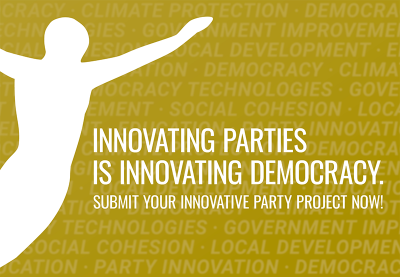 The Innovation in Politics Awards team is searching for Europe's most innovative political parties. Do you know of a party organisation that deserves to be the very first recipient of our award in this year's new category "Party Innovation"?


To acknowledge the importance of up-to-date political party organisations for strong democracies, we have created the new category "Party Innovation (Mobilisation, Transparency and Technology)". We view party innovation as essential for democratic change to occur, by making parties more accessible, and by motivating or engaging people in political work. That is why we promote party innovation through our Europe-wide awards, to inspire other parties and set an example.
Has your party or affiliated organisation implemented a new tool which makes voting within the party easier and more transparent? Have you come up with an interesting strategy that makes your party more open and accessible to new members? Or have you embraced an exciting technological solution that helps you connect with people who would otherwise stay out of your reach? Then we would love to hear from you!


You can submit your project following this link:


If you have any questions and for further assistance regarding the awards or project submissions, please do not hesitate to contact Marianne Schinnerl at awards@innovationinpolitics.eu or +43 660 5474805.