With their circular building project Super Circular Estate, the Dutch city of Kerkrade won the 2020 Innovation in Politics Award in the category Ecology.
We spoke to Victor Moura, the city's project manager for nature and landscape, and project manager Marco Theunissen about how to build new homes out of old high-rise buildings while strengthening the sense of community, and how to drive innovation for which there is not yet a legal basis.
The Municipality of Kerkrade in the south-east of the Netherlands is facing a rapid decrease in population. High-rise apartments from the 1960s are becoming redundant. The Super Circular Estate project is demolishing these old buildings and using the recovered materials to construct sustainable, modern social housing units.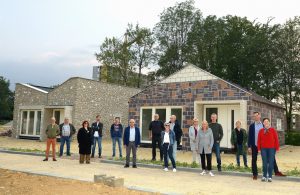 Outdated high-rise buildings are deconstructed and the recovered materials reused to build sustainable, modern social housing units, with low carbon footprints.
Read More »
130 new social houses have been built so far, entirely from recycled materials, pioneering a circular approach in a sector usually associated with high levels of pollution.
Marco Theunissen: The project currently consists of several buildings in different parts of the project area. One high-rise building has already been almost completely dismantled and rebuilt, and if everything goes according to plan, it will be finished by the end of the year. The three model houses which we built with Urban Innovative Actions funds have been completed a few months ago and the first residents have already moved into additional 15 housing units. 
In June we will build a parking garage. In the spirit of circular economy, the garage was dismantled a few years ago in Amsterdam, then it was put into storage and we hope to rebuild it here in Kerkrade, 220 km away. 
Which innovative methods are you implementing in the course of the project?
Victor Moura: The water system, the closed water cycle, is definitely special for us. The rainwater which collects on the roofs or other surfaces is transported to an underground bunker and converted into drinking water. It is then pumped back into the houses. This is how rainwater becomes drinking water. 
Marco Theunissen: It is cleaned, of course … 
Victor Moura: Yes, by the Limburg water company. In addition, the so-called grey water, the wastewater from the showers and bathrooms, is carried through a helophyte filter, which is a plant basin, and cleaned there. And from the toilet water, or "black water", other raw materials are extracted from which, among other things, fertiliser is produced.
The concrete ceilings of the dismantled high-rise buildings are also reused. If they contain water transport systems, we use them again, as well. This is already done in Germany, Switzerland, and Austria, but in the Netherlands this system is not yet widely used. A fortnight ago we had heavy rainfall and could see the effect: the system works and the water can be used.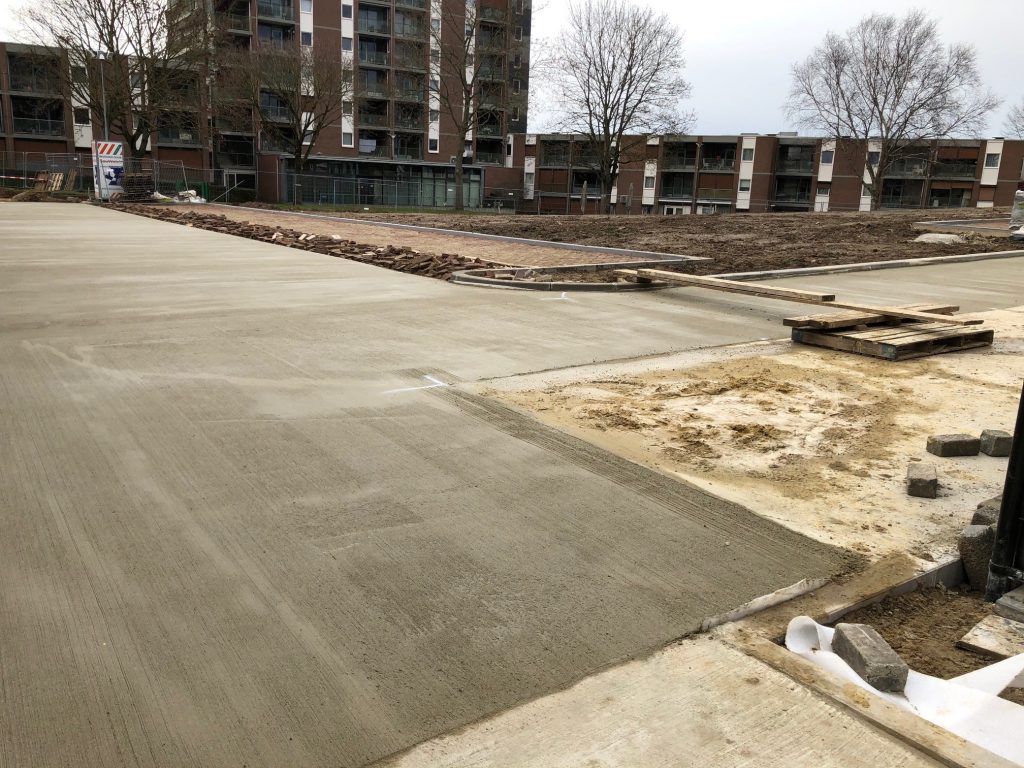 Did residents or decision-makers have any reservations against the project at the beginning?
Victor Moura: Not really. The residents were pleased that the old high-rises were coming down. And we gave them the choice of which high-rise buildings to dismantle first. Since they have been involved from the beginning, they are very enthusiastic and today they also represent the project. But I think the project is rather difficult for outsiders to understand because a lot of it is new. 
Marco Theunissen: We also work closely with our communications department. We have a Facebook page where we share information for interested people, flyers are distributed, there is also reporting in the local news, for example in local magazines and the house papers.
Do you continue to involve the residents in the development? 
Marco Theunissen: We have set up a Neighbourhood Steering Platform. The residents and future residents take part in it, as well as people who live nearby. A special role was given to former residents of the demolished tower blocks who have always loved living here and want to move back. 
The meetings take place every six weeks, via video calls because of Covid. We discuss the current status of the project and share news and information. This is important because the people who live around the project area are not always happy when the excavators drive through the street at 7 or 8 o'clock in the morning. 
For urgent issues, we have set up a WhatsApp group for the project team and two employees of the city of Kerkrade and HEEMwonen who are building the houses and renting them out afterwards. This way we can react quickly, even on weekends, and address the problems that have arisen, among other things, because of Corona, the best we can.  
The city of Kerkrade also involves the members of the Neighbourhood Steering Platform in the co-design workshops to collaboratively develop the public space in the project area and the social space (Social Plinth) in the ground floor zone. The residents can come together there and a common laundry room will be built there, as well. 
How does the city of Kerkrade or other projects benefit from the Super Circular Estate approach?
Marco Theunissen: Social circularity, that is, the intangible aspect of the project, is carried on in many ways. A colleague who is involved with another big project, 'Gebiedsontwikkeling Rolduckerveld', is implementing something similar to our Neighbourhood Steering Platform to involve people from the neighbourhood. So this form of participation is also being adopted for other projects.  
Victor Moura: In the coming years, a participation law will come into force in Holland for the first time. Participation is becoming more and more important. We have to let people participate.  
Marco Theunissen: However, going back to our project, it costs a lot of money to build and demolish in this way. So not everything that we have realised at Super Circular Estate will be adopted in other projects in the next few years. Often there is simply no budget.
Victor Moura: Yes, the funds are often insufficient. But for example, we will integrate the technique of recycling concrete ceilings in another project and try to collect as much water as possible there, as well.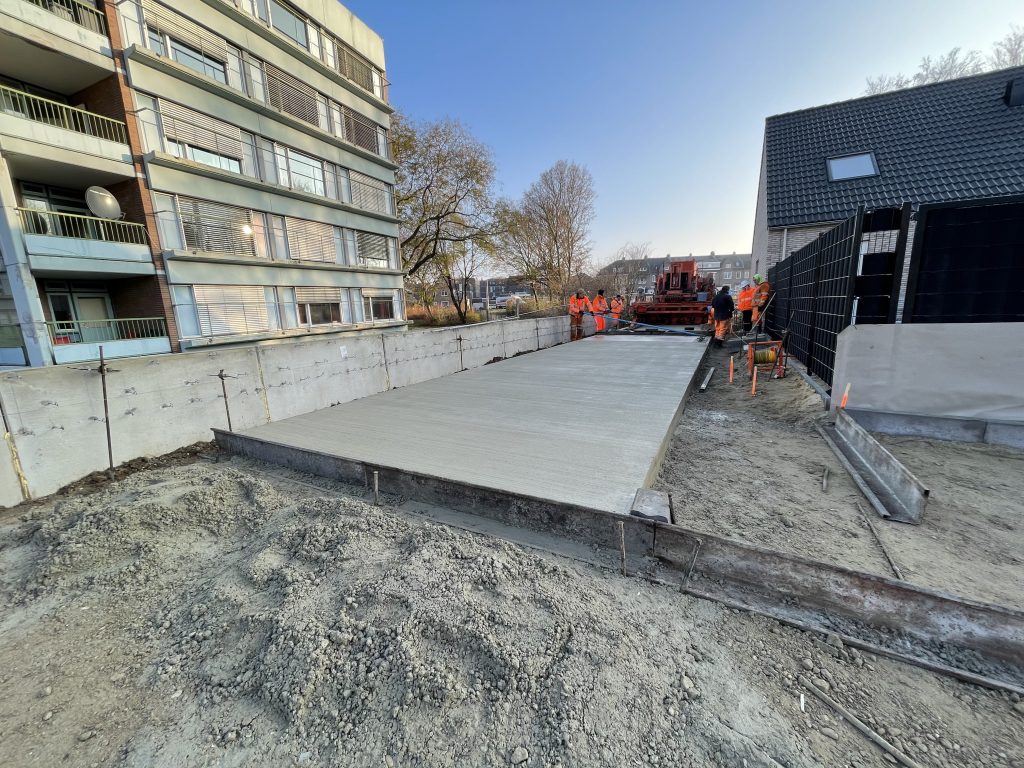 The project has received a lot of international attention. What role does that play for the project and especially for a small town like Kerkrade?
Victor Moura: Currently we have so many requests that we could guide groups of visitors through the project every day.  
Marco Theunissen: Exactly. The interested parties are people from construction companies, universities like RWTH Aachen University – Aachen is our neighbouring municipality – but also political representatives who think the project is important.
Victor Moura: There is also a lot of interest in how we implement our plans under the current legal conditions. Because for many aspects of the project there were no regulations in place. The Dutch government has the ambition to build completely circular by 2050 with the help of new construction methods. That is why the Dutch government approached us and asked: "What legal framework do we need to make projects like yours possible?" in order to facilitate these processes in the future.
Marco Theunissen: Normally, when you want to build a house in Holland, you apply to the city for a building permit. The application form is checked together with the technical documentation and you get a "yes" or "no". With our project it's different: we need permission to demolish a high-rise building and to reuse the materials that are released in the process. These are processes that have never existed before and that was also the experimental and innovative part. That is and was a challenge.  
If I, as a community leader, would also like to implement such a project, what would you advise me to do? 
Victor Moura: Well, you should have courage. And you have to be willing to take risks. And of course you need to work with people who also think innovatively. 
Marco Theunissen: A few years ago, the city of Kerkrade and HEEMwonen arranged to saw an entire flat out of an old high-rise building. This came about because the construction company involved in the project also thought out of the box and said, "We want to reduce CO2 emissions and build in an environmentally friendly way." Instead of either blowing up a high-rise or destroying it with a demolition hammer, they said, "We're just going to try sawing a flat loose and lifting it out with a big crane." That worked, there's also a video of that and it's quite interesting to see. 
I'll have to have a look at that saw. 
Marco Theunissen: It's a huge saw.
Project video:  Super Circular Estate, winner ecology of the #PoliticsAwards2020