As of May 2021, 25% of elected local authority councillors in Ireland were women. Increases in female representation have mainly been seen in urban areas. See Her Elected (SHE) is a feminist, community-led, rural initiative to support women into politics, fully funded by the Department of Housing, Local Government and Heritage under the stewardship of Minister Peter Burke. SHE is targeted at increasing the numbers of women in local politics in the rural Northwest-Midlands Region of Ireland, where anything from 78% to 95% of the elected local authority councillors are men.
In order to strengthen democracy in Ireland, SHE engages directly with women in their communities through the innovative SHESchool. Free online classes cover politics, public policy, economics and participation.
The project won the Innovation In Politics Awards 2021 in the category "Democracy" and were presented the trophy in Brussels by Guests of Honour H.E. Dubravka Suica and Minister of Climate Change, Environment, Energy and Participatory Democracy (Brussels-Capital Region) Alain Maron.
We sat down with SHE Programme Manager Michelle Maher and Ireland's Minister of State at the Department of Housing, Local Government and Heritage Peter Burke to talk about their groundbreaking work together.
Michelle Maher: See Her Elected was established out of concern at the very low numbers of women in rural Ireland who were members of our local authorities.
How does your programme work?
Michelle Maher: See Her Elected aims to support women into public life. So, we do political education with women online. We start with an introduction to politics and that can cover anything from, you know, what's the difference between a regular citizen and being an active citizen? How does your local government work? Who does what, between the staff and the elected representatives and where does power lie between local government and national government?
So, you already said that the project started out of concern for the low numbers of women in office. What sparked the idea of the project?
Michelle Maher: Well, I suppose our democracy cannot be said to be at its absolute best if half of the population are under-represented. So, that was really the catalyst for setting up See Her Elected. Some of our local authorities in the capital, in Dublin, and even some of the counties around Dublin, there's growing numbers of women being elected to local government there, but it's a very, very different story in rural Ireland. So, it was concern that led to See Her Elected being established.
Can you already see results? Are women who participated in the programme getting elected?
Michelle Maher: We are beginning to see results. What we did is we listened very carefully to what women wanted and one of the things they were asking us was: where do you start? If you're interested in politics, how do you get to know all of the things you need to know to run for election? So, we wrote a guidebook to running in the 2024 local elections and we have workshops running at the moment and we have 80 women enrolled in those workshops who are working towards being candidates or being members of a campaign team in our next local elections, which are in 2024.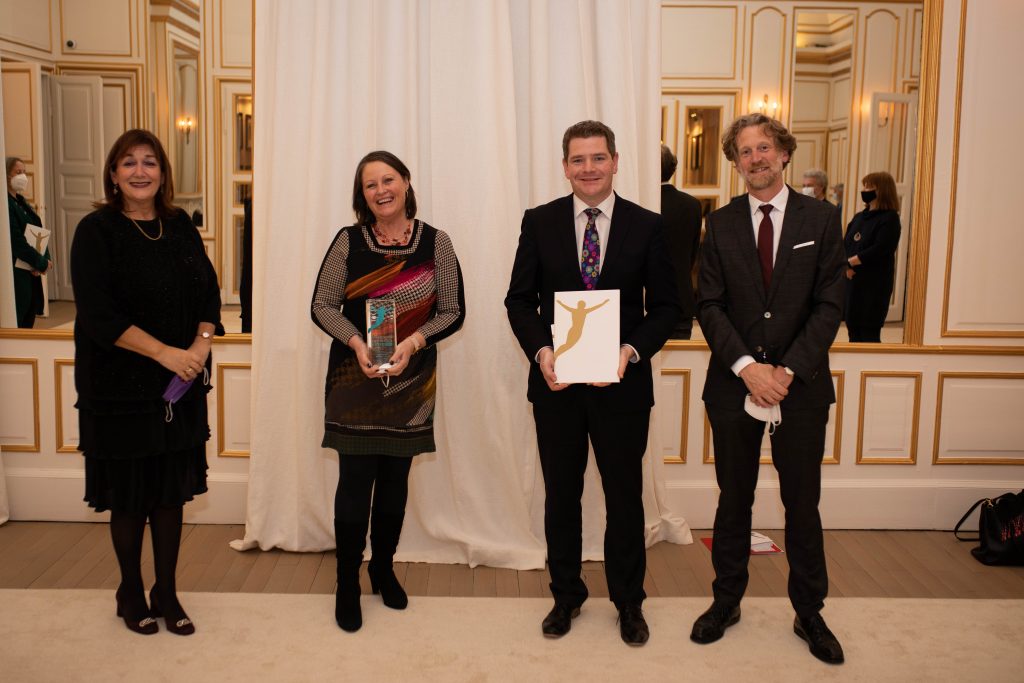 So, you get women into politics not only for running for positions but also for working behind the scenes?
Michelle Maher: That's a very important component of See Her Elected because a woman isn't going to get there by herself. She's going to need a team of women behind her, so we want to encourage women to consider both being members of the campaign team and getting behind a woman as well as being the candidate herself.
This project is so wonderful, really. You started it, right?
Michelle Maher: It got a small piece of funding, but it was funded on an annual footing from January 2020 and that's when I started working with it. Thank you very much.
What kind of feedback did you get from the public regarding this project?
Peter Burke: There is a huge concern in Ireland right across society, that there are low of numbers of women elected to local government, and obviously that flows through to our national parliament as well when the elections happen. So, every society should be reflected in the council chambers because it is the local government chamber that serves society, and obviously we need to see gender and diversity being reflected at those council chambers. And that was a huge societal concern and this project through getting more women involved in politics at an early stage, giving them the skill set, the tools that will enable them to have the best chance of number one, picking a political party or going as an independent, and secondly to give them the skills to get elected. I think that's so important.
Is there a lesson you take away from this project?
Peter Burke: Absolutely, in the first instance, the real rural issue was highlighted very firmly by Michelle and her team. Obviously in urban areas it tends to attract more women who get elected on to local authorities even though it is still low. We have a huge amount of small towns and villages right across our country, 31 local authorities, and that's what we really need to improve on as well; trying to get more women balanced, right throughout regional Ireland as well in this project will obviously assist that. It will be key to unlocking their potential and that will lead to better decision making made at local authority level because when women are in the room and represented as well as men in equal measure, you're going to get better decisions that will reflect on society, and that's what we're trying to achieve here in Ireland.
We are trying to inspire other politicians to get ideas from when they look at all the projects, that are nominated and mentioned. If the mayor of Vienna calls you and says, I think I want to start a similar project, is there an advise that you could give him?
Peter Burke: Definitely. I think get involved early. I met Maria Walsh this morning who is an MP who would have got involved with See Her Elected and got support from them, now she's representing Ireland in the European Parliament. That shows if you get engaged actively at an early stage, work through and take the support as an offer, through See Her Elected, that will enable you to have the skills and the know-how of what's needed to run a campaign, what support you need, what structures you need, and again that gives you the best possible chance. So, just ask for help because it is there, especially with initiatives we have in Ireland.