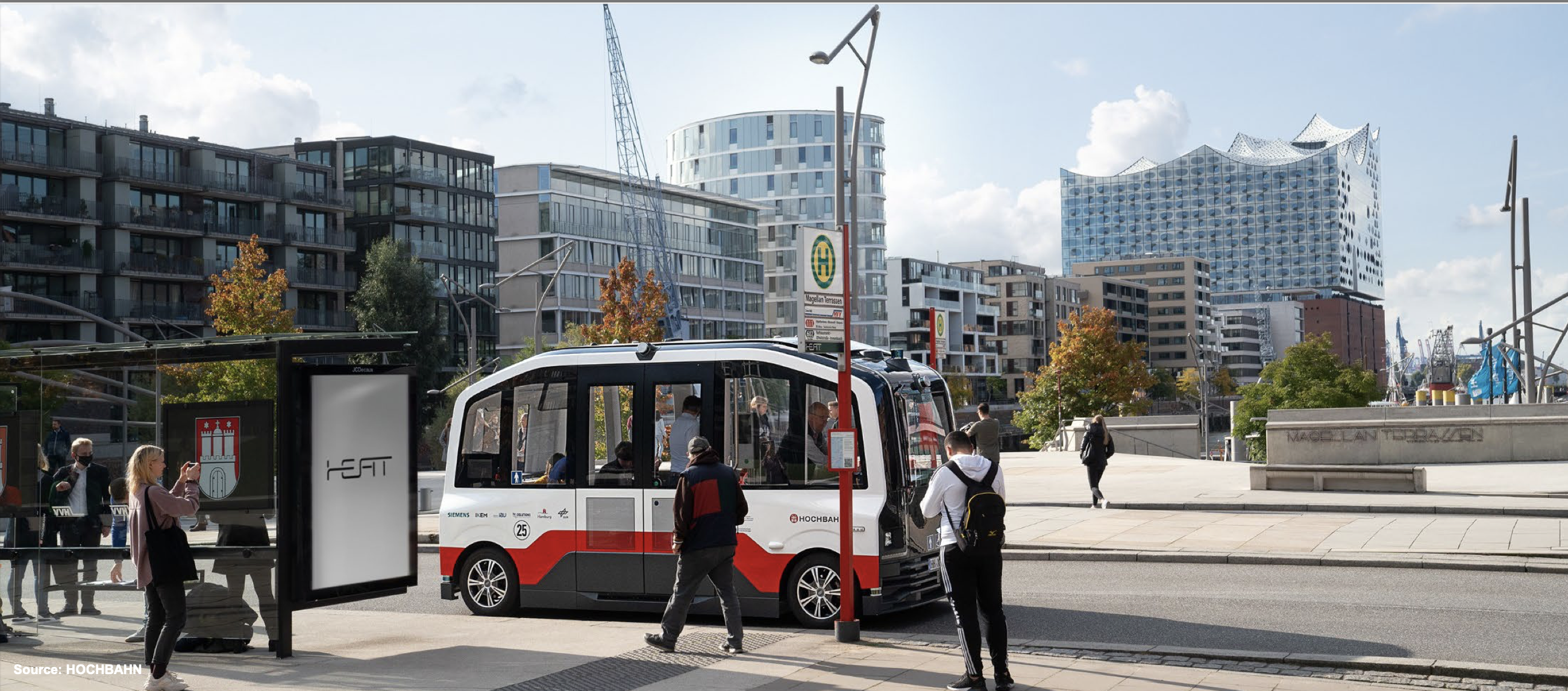 A comprehensive research and development project assesses the feasibility, safety and acceptance of the first fully automated public minibus service in Hamburg.
AN AUTOMATED PUBLIC MINIBUS
HEAT (Hamburg Electric Autonomous Transportation) is a research and development project run by HOCHBAHN and many other partners from industry and research institutes, as well as the City of Hamburg. The aim is to develop a prototype and test the first automated public transport minibus in Hamburg. The integration of decentralised infrastructure, sensor technology and traffic lights is one of the unique selling points of the project, distinguishing it from other automated bus operations in Germany and Europe. This enables the overall system to, technically, operate safely without human interaction at speeds above the benchmark of other trials.
A COMPREHENSIVE RESEARCH PROJECT
At the moment, the systems run at 25 km/ph with a steward on board. The project will go into its final phase of service, with passengers, in late summer 2021 and will be one of the major demonstrations at the Intelligent Transport Systems World Congress 2021 in Hamburg. Comprehensive accompanying research keeps passengers and other road users, and their needs and potential misgivings, in mind. The project is in close exchange with associations for handicapped and elderly people, as well as the kindergarten and school along the route of operation. As part of the state-funded Renewable Mobile Programme, the environmental impacts of autonomous transportation are also considered.
THE FUTURE OF SUSTAINABLE URBAN MOBILITY
The HafenCity offers the ideal testbed for complex automated operations in mixed traffic and in various traffic scenarios. The project has a special focus on technical feasibility, safety and acceptance with an outlook to future business and operator models. For the City of Hamburg and its largest public transport operator, the HOCHBAHN, the project provides valuable insights into the future of public transport and the upcoming roles of municipal players in autonomous transport systems. So far, the HEAT system has achieved a higher than average speed and connectivity, improving the performance and safety of the sustainable urban mobility of the future.
Project team
Henning Schubärth
Project Manager at the City of Hamburg's Department of Transport and Mobility Transition
Project owner
Anjes Tjarks
Senator for Transport and Mobility Transition