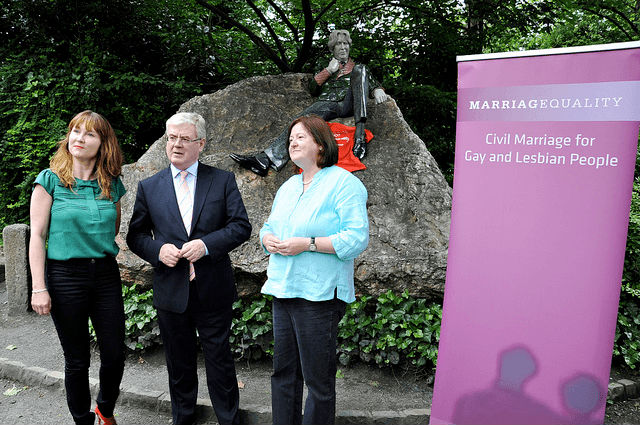 The traditionally controversial measure of same-sex marriage is first introduced by referendum, which leads to its legalisation in Ireland.
THE CIVIL RIGHTS ISSUE OF THIS GENERATION
In May 2015, Ireland became the first country in the world to approve same-sex marriage by popular referendum. Deputy Prime Minister Eamon Gilmore was the most senior government figure to declare his support for same-sex marriage in 2012, when he said "it is the civil rights issue of this generation".
BROAD AGREEMENT on SAME-SEX MARRIAGE
As Leader of the Labour Party, Gilmore had, in the previous general election, committed to holding a referendum on permitting same-sex marriage. In government, he persuaded his more conservative coalition partner, Fine Gael, to agree.
a PARTICIPATORY CONVENTION TRIGGERS a REFERENDUM
Gilmore was also the political leader who first proposed the establishment of a political innovation: a constitutional convention, two-thirds of whose members were randomly chosen citizens, which went on to recommend the holding of a referendum to change the definition of marriage in the Irish constitution so that same-sex couples could marry. The referendum was held, and 62% of participants approved the change.
Project owner
Eamon Gilmore
EU Special Representative for Human Rights