As Project Manager, Marie is part of several project teams, where she takes over a variety of tasks from organising events, to conceptualising training or researching topics.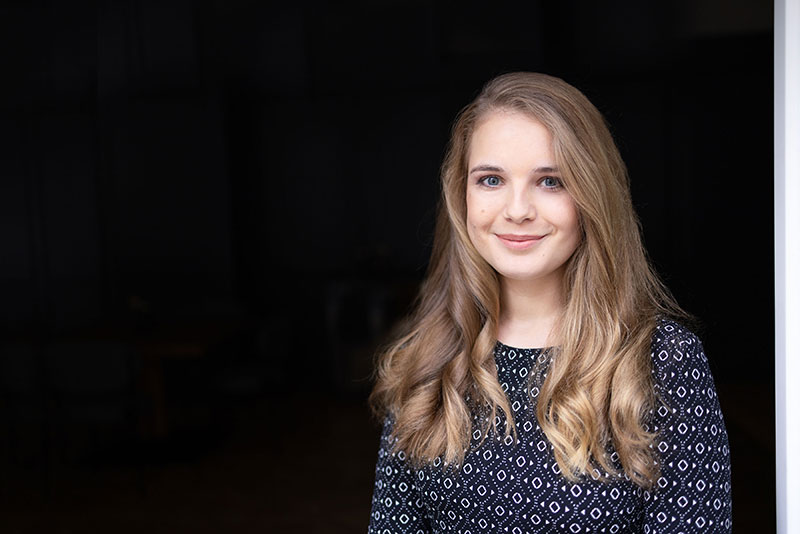 You wanted to study physics initially, and embraced Design Thinking. How would you describe your professional journey so far? What is your background, and what sparked your interest in currently working with design thinking?
I was always interested in many things and wanted to understand "what holds the world together". So during my school years I focused a lot on physics – I like the structure and accuracy of it. In my last year of school I received a flyer about Ethnology during an open day at a nearby university. It promised that "you would learn to see the world through different eyes", which was very intriguing to me. So I did my Bachelor's degree in Ethnology and Political Science. Through internships I realized that I could see a future for me in the political sector. To combine this plan with my interest in international relations, I started a Masters Programme in "National and International Administration and Policy". Next to my university in Potsdam was a School of Design Thinking and another student told me about the general concept. The most interesting aspect to me was that heterogeneity and a multitude of perspectives was viewed as something positive and essential for innovation. During a time of rising populism this seemed very beautiful to me, so I applied and studied Design Thinking for a semester. I think it is a great way to embrace the complexity of the world and at the same time it gives you the tools to manage and shape it.
What's one thing you're learning now, and why is it important?
I'm learning how to better track my time and my capacities to become better at planning.
What is your first memory of politics?
I think my first concrete memory of politics is of my dad telling my mom about the attacks on the twin towers in New York in 2001. I was 8 at that time.
With resources for learning and trends changing quickly in the current world landscape, how do you envision the type of work that you do shift in the coming years? Where do you see innovation happening in your work the most?
I think digitization and introducing technology will change how the political system will work, how citizens will participate in the political process
Were you popular or unpopular in your school days, and what did you learn politically from this?
I think I was in the middle. I always had a stable friend group but we weren't the coolest.
What's a piece of transferable knowledge that you have in your skill box that you would like to share with us?
How to design fun and engaging workshops that lets participants go away excited and with more knowledge.
Tell me about your favorite board game.
My favorite board game is Twilight Imperium. It is a strategy game of galactic conquest in which three to six players take on the role of one of seventeen factions vying for galactic domination through military might, political maneuvering, and economic bargaining. It usually takes the whole day and is just a lot of fun with twists and turns.