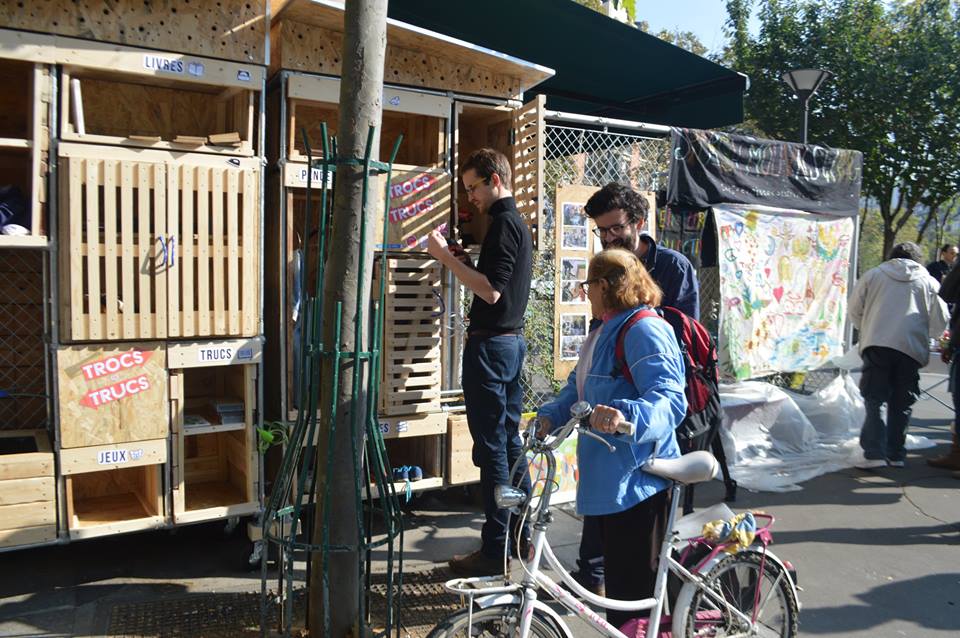 A donation box for sharing objects is set up on the streets of Paris, welcoming an average of fifteen people every hour who are ready to circulate their items.
A CUPBOARD LOCATED IN PUBLIC SPACE
In September 2015, the association Cap ou pas Cap (To dare or not to dare) built the first 'givebox' of Paris (on Place Félix Éboué), together with inhabitants and associations from the 12th district in Paris. A givebox is a cupboard located in public space, freely accessible, 24/7. Anyone can leave or pick up unused items: books, clothes, non-perishable food, etc., with no reciprocity required.
participatory camps build a bigger box
Thanks to the growing success of this citizens' initiative, the Paris Mayor's office and the 12th district Mayor's office contacted the association, asking them to set up a large new givebox. During four participatory camps in September 2016, a team of volunteers and inhabitants built the new donation box, which opened in October 2016. Since then, inhabitants, local associations, and Cap ou pas Cap organise activities every week in support of this givebox.
AN AVERAGE OF FIFTEEN PEOPLE GIVE AND TAKE EVERY HOUR
The givebox has quickly become a highlight of the sharing economy in and around Paris: every hour about 15 people leave and/or take objects, and on average, 50 objects are put into circulation.
Project team
Manon Letartre
Space Designer in Urban Alternatives
Project owner
Antoinette Guhl
Maire-adjointe de Paris