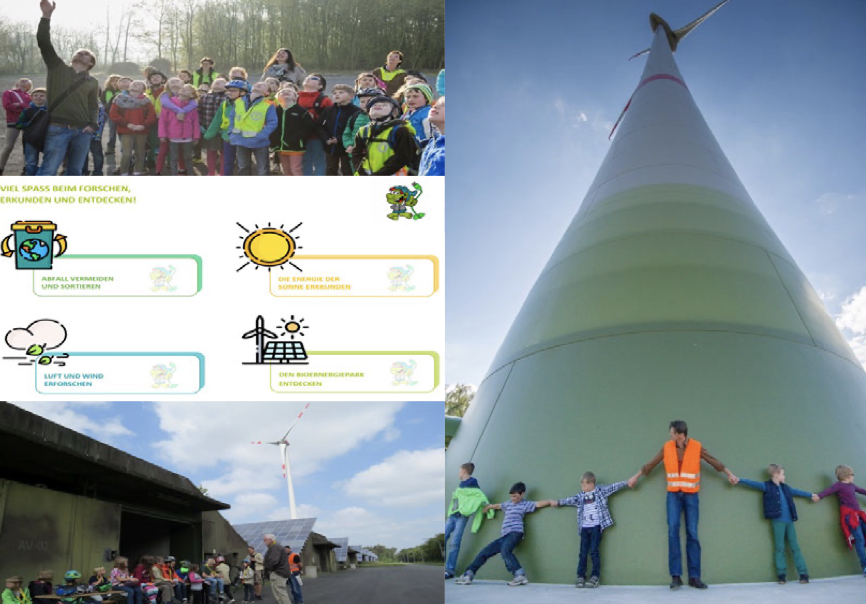 A community thinks globally and acts locally to create sustainable changes and social transformation for a climate-friendly future.
ACTION AGAINST CLIMATE CHANGE
Energy transition, climate protection and climate adaptation in practice – that is what the community of Saerbeck in Germany stand for. The whole city is on its way to a sustainable and climate-friendly future. By the year 2030, the 7,200 inhabitant-community's aim is to have fully switched to renewable energies. The Klimakommune is a model for sustainable change, social transformation and technical innovation – proving that the global challenge of climate change can be countered by local actions in everyday life.
LOCAL INVESTMENT IN RENEWABLE ENERGY
The main project to accomplish the climate protection goals is the BioEnergyParc, which was built on the grounds of a former German army ammunition camp. The BioEnergyParc is a community project and was realised with the investment of residents, farmers, businesses and the city. Using a cascade investment model, from low to high value investments, multiple local stakeholders invested in renewable energies. All investments (totalling €70 million) came from local money. The most important investment was made by an energy cooperative of 400 residents.
HALVING THE COMMUNITY'S CARBON FOOTPRINT
The total production of local renewable energy from wind, solar and biomass is actually 4.5 times higher than local consumption. Within the past five years, the community's carbon footprint was cut in half. More than 150 projects have resulted in a climate-friendly energy supply, improved biodiversity, local added value and new jobs – demonstrating that thinking globally and acting locally leads to success. This not only ensures long-term sustainable living conditions, but also social welfare, a higher level of know-how and an open-minded approach to tackling a global challenge.
Project team
Guido Wallraven
Project manager
Project owner
Tobias Lehberg
Mayor of Saerbeck