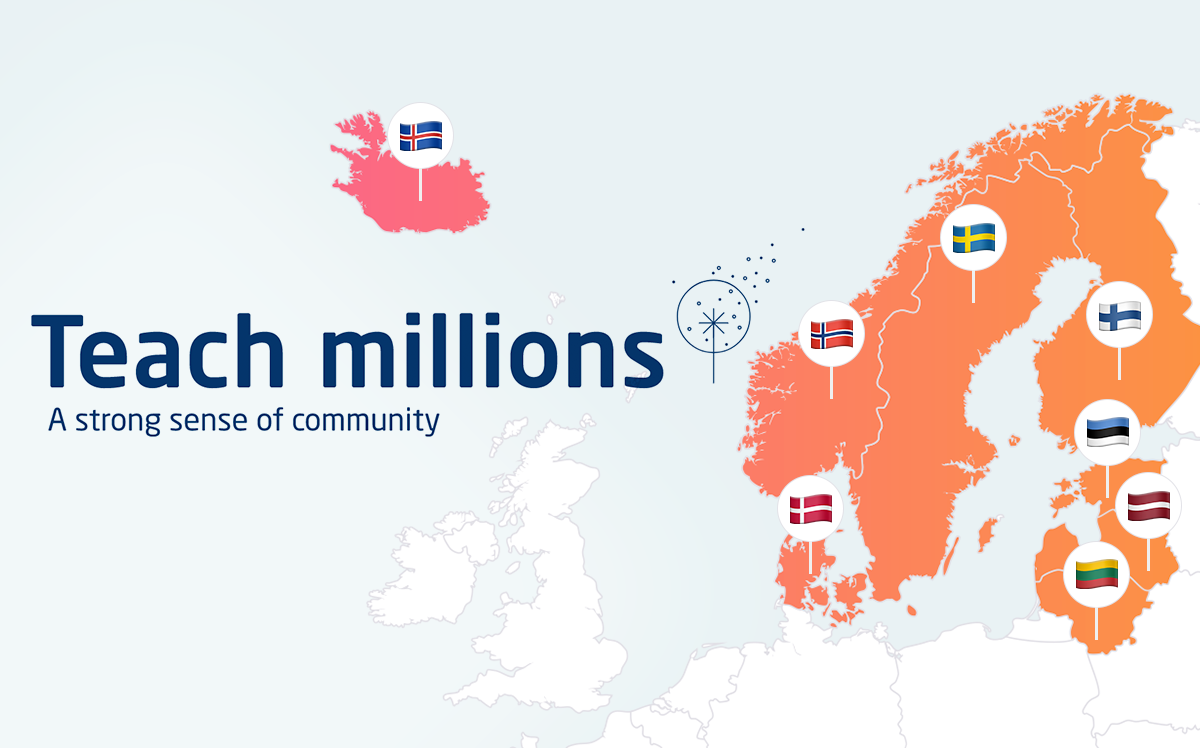 TeachMillions is an initiative that was established at the beginning of the COVID-19 lockdowns to support teachers and learners in need of distance-learning tools.
SHARING THE BEST OPPORTUNITIES
TeachMillions was the first example of close cooperation and collaboration on digital education development in the Baltic-Nordic region. Such international cooperation is vital, as it allows for both the quality and the accessibility of education to be improved. All too often, the best opportunities remain out of reach to large portions of society. The work was led by a joint team from Estonia, Finland and Denmark, but all eight countries in the region developed solutions and organised communication at the national level.


DEMOCRATISING EDUCATIONAL DEVELOPMENT
Education technology companies from Baltic and Nordic countries were asked to make their digital learning solutions available for free until the end of the pandemic. In total, 125 companies joined our initiative. The aim was to democratise educational development by empowering communities to build the tools they need, and to share their knowledge and skills internationally. The project's three guiding principles are agility, scalability, and sustainability, and the teams are provided with support to help them to follow these principles. Several channels are used to keep the public informed, including conferences, social media and traditional media.
DIGITAL LEARNING SOLUTIONS
The project led to the dissemination of several tools that significantly help learners. To give a few examples: GraphoGame from Finland helps dyslexic children learn to read much more effectively than traditional methods; Evolytes from Iceland helps kids with ADHD learn basic mathematics up to 12 times faster than traditional methods; and Triumf. Health helps psychologists support children with mental health challenges. Now that the lockdowns are over, TeachMillions will be converted from a COVID-19 response programme to a sustainable organisation, gathering together the best Baltic and Nordic EdTech and making it available to those most in need of such solutions.
Project owner
Mart Aro
Chairman of the Board, Nordic EdTech Forum - N8
Project owner
Mart Laidmets
Secretary General of the Ministry of Education and Research