Alexander Mirescu
- CEO / RESILIENT/CITY, Program Coordinator / UN Office for Disaster Risk Reduction, United States
8 January 2021, 9.15 am (CET)
Understanding, Reducing and Preparing for Risk from a Multi-Hazard Perspective
Cities are faced with a growing set of risk factors, from climate to pandemic to man-made. In the face of these stressors, cities are looking to policy innovations and creative approaches to understand their risk and become more resilient. The purpose of this webinar is to introduce participants to the basic concepts of resilience, the importance of risk assessments, and adopting risk-based governance models. Resilient/City CEO, Alexander Mirescu, will share interesting approaches, proven practices and participatory ideas for making cities more resilient and, thereby, more sustainable, economically-attractive and a better investment for the private sector.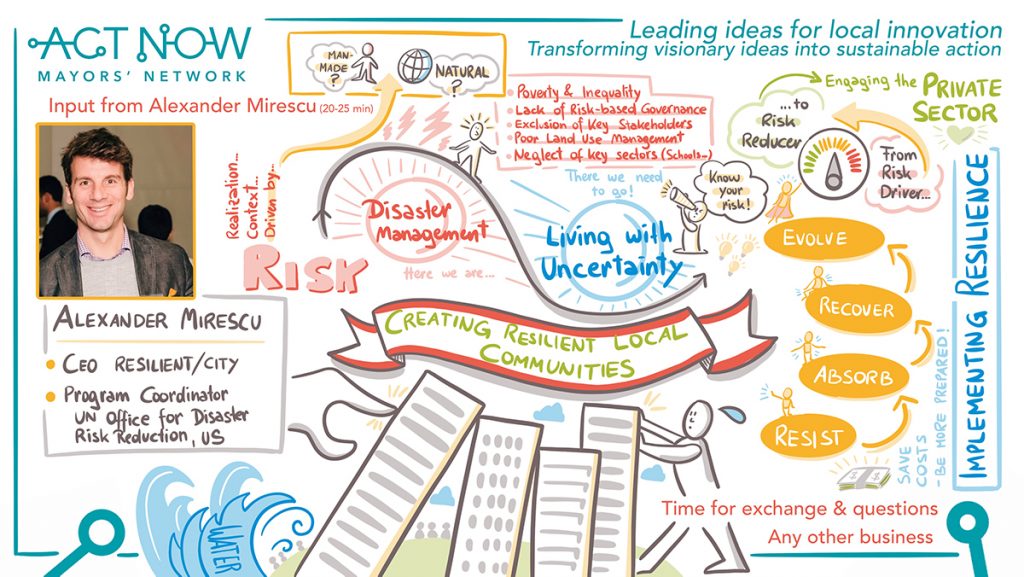 About Alexander Mirescu
Dr. Alexander Mirescu has been working in the field of disaster risk reduction and resilience for over 12 years, ranging from the international development arena to academic research to the private sector. Mirescu consults for the World Bank, United Nations Office for Disaster Risk Reduction, United Nations Development Program, the World Economic Forum and the World Water Council, as well as bringing private sector firms into the resilience market space. Additionally, Mirescu has extensive experience in supporting national and municipal governments to better engage their local economies, especially small- and medium-sized enterprises (SMEs), as well as early warning systems. Resilient/City has conducted several urban risk assessments using its own resilience mapping tool. When working with clients, Mirescu approaches his webinars using a combination of presentation, discussion and interactive exchange.