Andreas Kipar
- Landscape Architect & Urban Planner, Founder & Creative Director / LAND Srl, Italy
04 December 2020, 9.15 am (CET)
The Key to Cultivate Cooperation and Participation
The decade 2020-2030 is a period of extraordinary importance for all countries worldwide to implement their sustainability agendas and take action against the climate emergency. Starting from today's challenges, including the new link between nature and technology, the webinar will present the role of productive landscape in this context and will stress the importance of cultivating relationships for the creation of greener, and therefore more liveable, communities.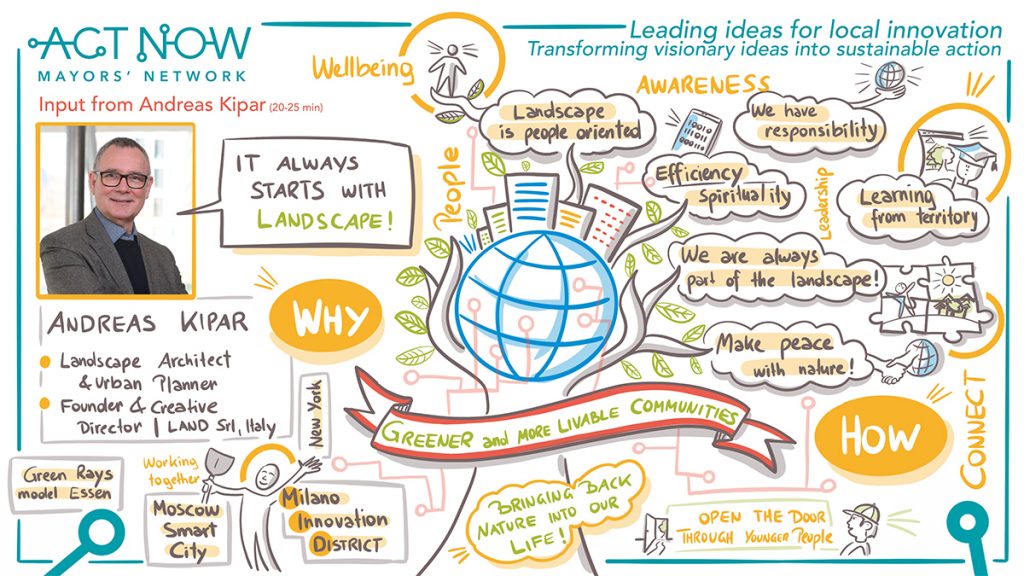 About Andreas Kipar
Landscapist, architect and urban planner, Andreas Kipar is the co-founder, chairman and creative director of the international consulting and planning firm LAND, with offices in Italy, Germany and Switzerland and practices worldwide.
He is the inventor of the "Raggi Verdi" [Green Rays] model in Milan, which connects up the various areas of the city to favor a new slow mobility from the center towards the suburbs. This model, internationally recognized as a pioneering one in green urban planning, has also had subsequent applications in Essen, the European Green Capital 2017, and in the award-winning Smart City of Rublyovo-Arkhangelskoye in Moscow. Andreas Kipar and his team have been supervising the landscaping for EXPO 2020 in Dubai, the greenery strategy for Riyadh and the German Pavilion at Expo 2019 in Beijing. He has been appointed to draft urban and peri-urban green plans in more than hundred cities and to develop territorial strategic plans, such as in the Ruhr basin, on the Karst Plateau, in the Langhe, on the Garda Lake, on various Italian islands, in the Swiss canton Ticino and South Tyrol.