Constantin Grosch
- Founder / AbilityWatch e.V & Activist / Sozialhelden e.V., Germany
09 April 2021, 9.15 am (CEST)
Pragmatic solutions to force change
In this webinar we want to focus on people with disabilities. We will show that their needs are not a burden, but rather potential motors for innovation that enable societies and administration to transform themselves. But what exactly are these needs and how can they be used to bring about the changes that are necessary to make communities and societies fit for the 21st century? We will look at pragmatic solutions that simultaneously tackle several important issues of our time – such as digitalisation, ecology and inclusion – and show examples of promising legislative and administrative measures. At the same time, we want to establish a new perspective towards disability and show how effective and timely involvement of people with disabilities can help decision-makers and those affected by their decisions.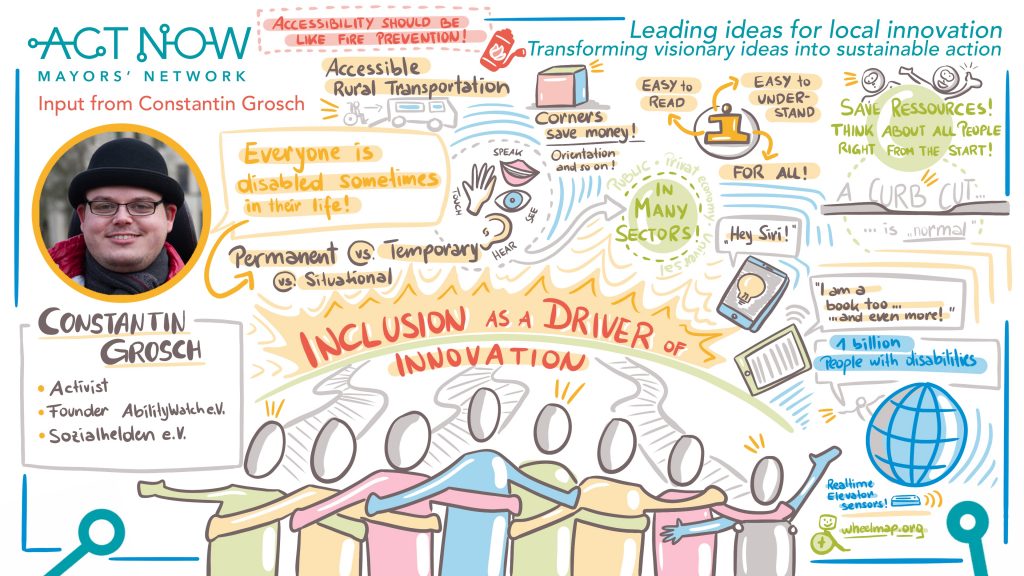 About Constantin Grosch
For more than a decade Constantin Grosch has been an activist for people with disabilities in various institutions in Germany. He was involved in the recent legal reform (Bundesteilhabegesetz) of the rights of disabled people as a critic, advocate and advisor in the legislative process and founded AbilityWatch e.V., one of Germany's most influential platforms for constructive disability rights activism. Furthermore, he is well connected politically and as a member of the district council he is familiar with the perspectives of policy-makers. As a sociology student, he is well versed in the mechanisms of social transformation.