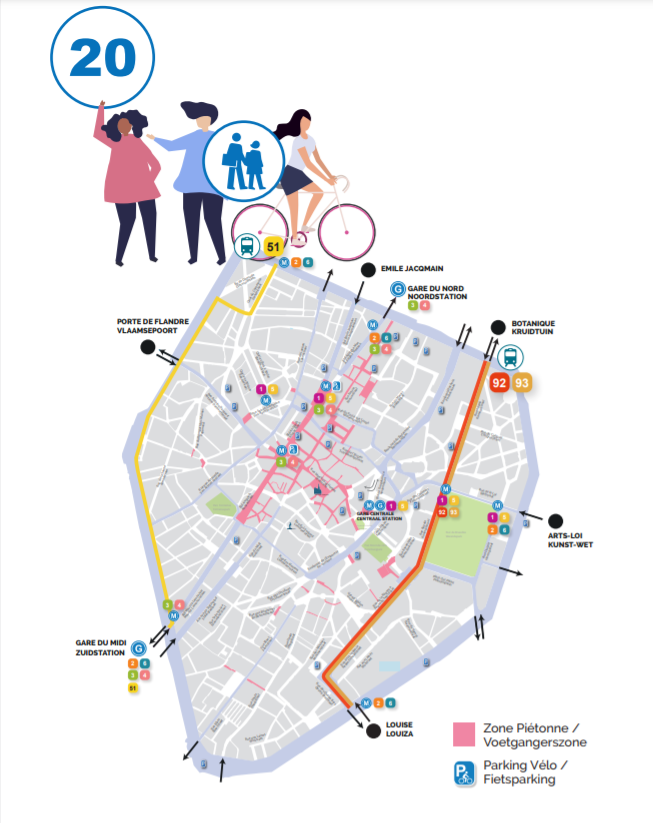 © Mise du Pentagone en zone de rencontre (à savoir 20 kmh) - Ville 20
A temporary measure in response to the pandemic has become part of Brussels' long-term mobility strategy; prioritising pedestrians and cyclists by reducing speed limits and allowing shared use of the roadway.
PEDESTRIANS AND CYCLISTS HAVE PRIORITY
Since the lifting of lockdown in May 2020, the Pentagon - the entire perimeter of the City of Brussels located inside the inner ring road - has been demarcated as a zone where pedestrians and cyclists now have priority and can circulate on the roadways as well as on sidewalks or cycle paths. This zone allows cars and buses to pass at a maximum speed of 20 km/h, reducing traffic congestion in the city center.
SOFT MOBILITY AS A LONG-TERM STRATEGY
The measure has been in force since the beginning of May, in order to allow pedestrians and cyclists to respect social distancing guidelines in this especially hyper-dense area where the sidewalks are very narrow. Originally thought of as a temporary measure, soft mobility has become part of the Good Move Regional Mobility Plan for the Brussels-Capital Region, approved in 2020 by the Brussels Government. The Good Move programme has been co-developed in conjunction with field associations, local authorities and citizens to create a safer, friendlier, less congested city.
IMPROVED SHARING OF PUBLIC SPACES
Between May and August, a communication campaign focussed towards Pentagon inhabitants was initiated, and the tactic was evaluated for three months. This solution, according to the evaluation, enables better public space sharing and encourages people to use public areas, which is especially crucial during a pandemic when getting outdoors has become critical. As a consequence of the policy, traffic in neighborhoods has calmed, speeds have decreased, and walkers and bicycles have been treated with more respect in public areas.
Project owner
Philippe Close
Mayor of the City of Brussels