A conversation with Katarzyna Gruszecka-Spychała, Deputy Mayor of Gdynia for Economy
With her project Covid-19 Support for Gdynia's Entrepreneurs, Katarzyna Gruszecka-Spychała and her team won The Innovation in Politics Award 2020 in the category Economy. We spoke to her two months after the Awards to learn more about her project and how her city has changed in the pandemic.
How did you originally develop the project?
Covid-19 Support for Gdynia's Entrepreneurs is rooted in our experience with the project Gdynia's Business Plan which we have been conducting since 2003. This competition is open to all entrepreneurs who have a specific idea for starting or developing their business but lack funds, premises, know-how or self-confidence. Successful participants get free training for the start of their business and additional support after the second year to ensure the sustainability of these businesses.
In the face of Covid-19, the situation is very different, so – based on the learnings from this competition – we decided to offer similar services to our entrepreneurs to help them survive the pandemic.
Which services were most in demand?
We learned that there is a great need for support in the areas of fundraising, legal and tax matters, as well as human resources. Many entrepreneurs did not know how to apply for nationally granted help. The application process is quite complicated and almost impossible to handle without the help of a professional tax adviser – but in this crisis situation, entrepreneurs could not afford to hire one. Or a company needed to provide data from past years, which was impossible if they were just starting out.
Secondly, we found there is a great need for soft skills, especially in dealing with change. This need is easy to diagnose – but it is not so easy to implement a solution. You can't plan ahead nowadays! On the other hand, you need to plan ahead.
When we offered business consultation for our entrepreneurs, we were not sure whether they would be ready for advice suggesting a complete transformation or a fresh start – but the opposite was the case. Their readiness to try something very new astonished me. We were amazed at their courage and willingness to find ways to adapt to the new situation. Many of them implemented the advice they got and we may say they are successful now. We need to change our assumptions. Sometimes we are not brave enough to implement changes.
How has the economic situation changed since last year? Have you moved on from crisis mode?
For Gdynia, the crisis is definitely not over. Our economy relies heavily on horeca (hotel, restaurant, catering). It's a seashore city with a wonderful beach, but we never wanted to become a holiday resort. Instead, we decided to build on our potential of becoming a city of meetings. And we were quite successful! However, when Covid hit, we were in bigger trouble than, for example, Sopot – which lies nearby and is a typical resort. Even during the pandemic there were some better months in summer when hotels and restaurants were full, but still there were no conferences. So we are still in big trouble and I cannot say who is in a worse condition, whether it's the managers of hotels or the restaurants. This is why it is our current priority to build a special programme for them.
How has your project Covid-19 Support for Gdynia's Entrepreneurs come along since December 2020?
The project that has been awarded has ended, because it was a one time project. It also cannot be offered the same way as last year. However, it was so well received by the entrepreneurs and so successful that we plan on having several next editions. I would rather call them sequels since we have to adapt to the changing situation in the city. From the second quarter, we will start our expertise programme once again, but this time with a focus on business development, as well as with soft competences such as how to deal with change. Because especially in times of transition, finding new ideas is something that might help people to recover.
We don't think that spring is the time that the recovery will be performed. It will still be a time for waiting. But we need to help our entrepreneurs and businesses to be ready. And of course there is another problem, that you may say: be emotionally ready and get all the knowledge that you need, but still the economy may find your business dead before you can get going again.
So, in fact, we are not able to offer our services to such an extent as we would like to because we need more money in order to keep them simply alive, such as waiving rent or leasing fees. The key now is to find the right balance between offering help to weather the crisis and making sure they have the capacity to keep going.
How did Covid-19 affect the job market in Gdynia, especially regarding the young people who are finishing their education and are ready to start work?
Generally, the unemployment rate has risen but it is still very low. Yet, we cannot say it is not worrying. Behind the numbers there are always human beings, and even if the macro facts are satisfactory, they are not the end of the story.
We see that the number of new positions offered to the job office is much smaller than it used to be in January last year, so many young people are looking for a better place with better perspectives. Right now, they cannot see an end to the catastrophe. So they do not just leave their home, but Europe. A lot of qualified horeca workers with good knowledge in foreign languages go abroad to places like Zanzibar, which seems to be an oasis of free vacations without restrictions.
This is a very big problem because I know this practice is growing and we are losing these qualified people for an indefinite amount of time. And training someone new costs time and money and maybe time is even more painful here. When the restrictions are off, we might be unable to build the condition from before the pandemic.
On the other hand, the BPO/SSC sector (Business Process Outsourcing and Shared Service Center) looks much better. It is an important part of our business in Gdynia. Especially those businesses which offer digital services which are so much wanted nowadays are even growing. So this is like a different world, I don't see a big stress. And I guess it is still an attractive job opportunity and does attract people to stay here.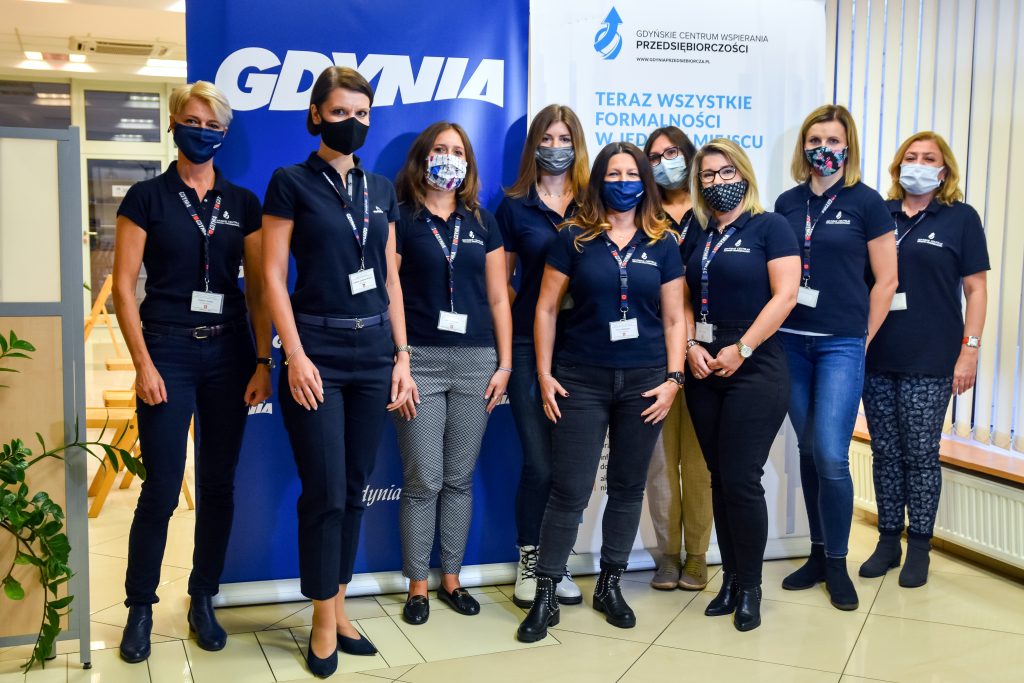 "Covid-19 Support for Gdynia's Entrepreneurs" was provided by the city administration. What role did trust play in the success of the project?
If you ask me, trust is the most important thing. Building trust is something that you need to do every day and it is very difficult to build, and it is very easy to lose. You need to be frank and you need to be a truth teller in order to get it.
And yes, the programme would not have been a success if entrepreneurs had not been sure that they were advised by trustworthy people. I guess that they believe in the authority of the city and know we have checked those people and they are good at what they are doing. This experience shows that when there is trust between us they are very ready to make changes quickly and comprehensively.
This pandemic has shaken up our world. Which major changes do you see in Gdynia?
We see two big issues regarding how people move around in the city. We understand very precisely that the highest priority for a city is pedestrians and this is where the focus of city planning must be. This is nothing new, but the crisis showed how important green spaces are in cities. There is no need to build fancy parks, simply many small green squares that are easily accessible.
On the other hand, we see more people using their cars again because they are afraid to use public transport. Lower ticket sales mean a big financial problem for us because we need to keep running it and investing in it. So we need to organise a system so that people are not afraid of using public transport again.
On a positive note: we are much more digital than we used to be. If you had asked me a year ago whether it would be possible that we transform, I would have said: No way!
I come from business and it always bothered me that digital is not so present in public administration. But I also believed that we needed to transform slowly, step by step. That was not true.
When the pandemic started, we instantly put 70% of city administration staff on remote work. We had a couple of technical problems, such as not enough notebooks…but within a couple of weeks, we managed. This will stay. And we have implemented digital services for our citizens: they can now order many things they need from the municipality by putting their documents in one of the package boxes we have put up in residential areas. The documents are then being delivered to the city hall by the postal service.
So this is one solution, but we are aware that we will continuously need to find new solutions for things that are not efficient enough from the citizens' point of view.
How has your daily job changed?
My job per se has not much changed; but since my business trips are cancelled, I have more time for doing my work here and for being present in my city. I have more meetings with citizens, very often not in person. But people are more open and try to contact us using messenger, Whatsapp, and so on. So I no longer just meet citizens during arranged meetings but also more informally. Contact is much more direct than it used to be.
But the biggest change is the way of planning. We used to plan much more long term, now we need to be able to change any time any day. So it is a constant balancing act between planning ahead and being aware that the status quo can change very quickly.
Talking about change: How is the coronavirus crisis impacting the economy's ability to change in face of other crises such as climate change?
Climate change is the main issue nowadays and simply our biggest challenge. Winning or losing elections during the next decades will depend on climate policies. That is something extremely important for young people and the more young people will take part in elections and will be able to vote, the more important the issue is going to be.
Corporate social responsibility in this regard is more important nowadays, also for financial matters. So far, I mostly observed this globally but it will very soon be local. The big issue for us is that we need to make our entrepreneurs, especially the smaller ones, conscious of this fact. That it is important. If they do not make correct policies early enough, they may lose. If they lose, we also lose.
Learn more abut the project "Covid-19 Support for Gdynia's Entrepreneurs": https://innovationinpolitics.eu/showroom/project/covid-19-support-for-gdynias-entrepreneurs/