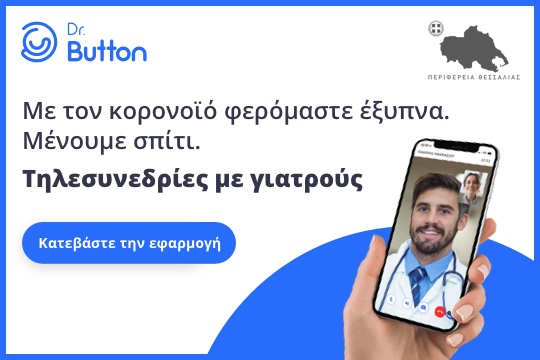 Free teleconsultation services help keep citizens safe and informed through the coronavirus lockdown, thanks to a collaboration between medical staff, local government, and the startup-sector.
CITIZENS RECEIVE CARE AT HOME DURING CORONAVIRUS
Within days of the coronavirus outbreak, medical associations in the region of Thessaly moved to collaborate with the health-tech startup, Dr Button, to deliver free teleconsultation services to citizens through mobile and web applications. This system ensured that people were able to stay safe at home throughout the lockdown.
FREE MEDICAL TELECONSULTATION SERVICE
This was a groundbreaking initiative in Greece, where virtual medicine is not yet well established. Citizens were able to have free virtual access to doctors through their smartphones, tablets, or computers. Medical associations in the region swiftly invited their members – practicing doctors – to join the local Dr Button platform. Within a few days the initiative was flourishing, with almost 100 voluntary physicians ready to provide their services for free to thousands of citizens.
HUNDREDS OF CASES WERE MANAGED REMOTELY
Amid the lockdown, citizens felt safe and secure, as they were able to see a doctor from the safety of their own homes using the free teleconsultation service. Hundreds of cases were properly managed, with timely diagnosis and guidance. The system also allowed for the monitoring of more worrying cases. Furthermore, this project initiated a digital transformation of the local healthcare system. It marked a shift in the culture and mentality of the citizens, who now understand the safety and efficiency benefits of using digital technology to support health services.
Project owner
Konstanitinos Agorastos
Governor