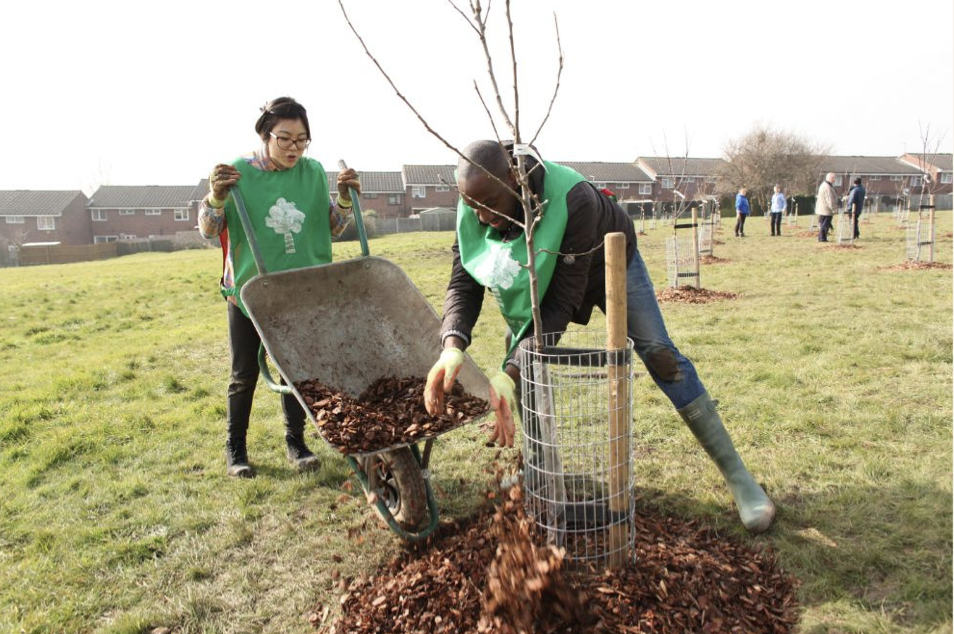 The urban Borough of Ealing sets up a comprehensive tree strategy, including free fruit for all residents from orchards, planted on public land.
THE COUNCIL PARTNERS WITH A trees for cities
The London Borough of Ealing, in Greater London, is one of 32 Borough Councils in the United Kingdom capital of London. In 2016, Ealing Council started a strategic partnership project with Trees for Cities.
INTEGRATED PLAN FOR THE URBAN ECOSYSTEM
The three-year project includes: mapping to identify tree planting sites, considering air quality hotspots and flood risk areas; London's first eco-survey to discover the monetary value of the tree ecosystem; community consultation about citizen's attitude to trees; and, six community tree planting and greening projects, including food-producing urban woodlands, community orchards, and tree trails. One year in, a new community orchard of 30 different fruit tree varieties has been planted. It will provide a free food resource for residents, as well as a habitat for beetles, birds, and other animals.
FOOD FORESTS FOR THE UK
A new edible woodland has been created: more than 800 volunteers planted over 20,000 trees, including many fruit trees. Gathering wild foods is a forgotten skill in the UK. Ealing's project rebuilds a healthy environment, enhances biodiversity, and offers residents of all ages the chance to connect to nature, enjoy free food sources, and benefit from being outdoors.
Project owner
Julian Bell
Councillor