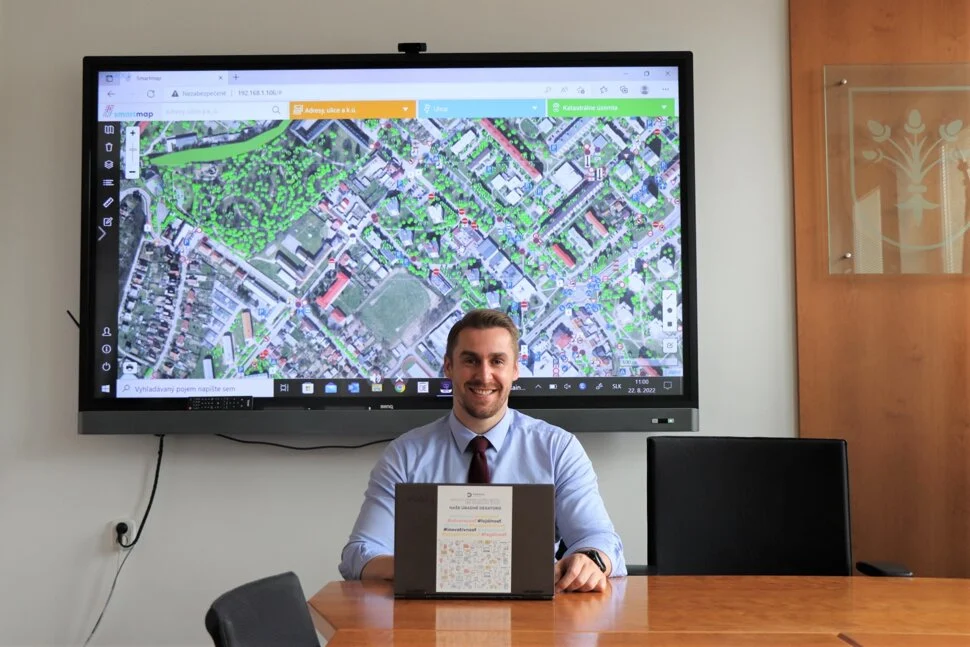 © Source: index.sme.sk
The Smart Maps project is a universal data system in Dubnica nad Váhom that combines all important information about the city on one platform, improving efficiency and resulting in wide-reaching impacts.
SIMPLIFYING AND STREAMLINING DATA
A few years ago, only a handful of people had access to information about unpaid taxes or municipal property in Dubnica nad Váhom. Often, this data was either missing or unreliable, complicating processes for carrying out city business and preparing projects or investment plans. These challenges created a need to bring different kinds of data together in one place, as well as simplify and streamline access.
ACCURATE AND UP-TO-DATE INFORMATION
The result of this initiative was Smart Maps – a universal data system that combines all important information about the City of Dubnica nad Váhom and hosts it on one platform. The system includes everything from population records, information on taxes and fees paid, to data from the police force, construction office, or the land registry – all displayed directly on the city map. The innovation made the preparation of investment projects and the collection of taxes or municipal waste much more efficient. In the future, Dubnica plans to expand the smart system to include data on energy consumption in city buildings, occupancy of parking lots, and the number of bicycles on cycle paths, and to work with a commercial company to provide regular access to data that is accurate and frequently updated.
MANAGING THE CITY MORE COST-EFFECTIVELY
The Smart Maps project has had a number of wide-reaching impacts, both in the community and in the region as a whole. Since the project launch, tax and waste collection have improved, as it is now easier for the city to track and encourage recycling or determine unpaid fees. Because of these improvements, Dubnica's budget has increased by half a million Euros. In addition to saving citizens' time searching for necessary information, the city has also managed to avoid costly accidents or power outages during construction, as the map accurately locates electric cables, sewage lines, and gas pipes. The City of Dubnica nad Váhom continues to improve the system and transfer its know-how to other municipalities, with other Slovak Mayors already visiting Dubnica for inspiration.
Project owner
Peter Wolf
Mayor Of Dubnica nad Váhom
Project owner
Eva Granátová
Department of Strategic Development