Civic engagement happens when citizens get active for the good of the community. It takes a broad spectrum of forms, and serves a variety of purposes. 
Oftentimes the initiative is taken by the citizens themselves because they identify a certain problem in their community and thus become active to fix it. But more and more politicians recognise the potential of what citizens can contribute. They see the necessity to involve citizens in community decisions, as well as validate citizens' need for encouragement and support in those matters. One way they do this is by providing the necessary infrastructure such as volunteer platforms or places to meet or store things, such as food, tools or other common resources. Another way is by starting comprehensive participatory processes where all steps, from brainstorming to project implementation are done in close collaboration between politicians (or civil servants) and citizens. 
Taking civic engagement seriously is a key factor for political innovation, both by bringing politics and citizens closer together and by tapping into a larger and more diverse set of ideas. 
In our showroom you can find numerous projects based on civic engagement. We have made a selection of inspiring projects that shows the diversity of forms it can take: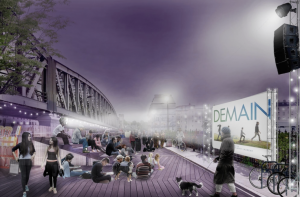 Transforming a derelict area in northern Paris into a showcase of citizen governance opens up a new space for many activities in a formerly abandoned public space under the metro.
Read More »
In our Showroom we present exemplary political projects which successfully address today's challenges. Each month, we offer you a carefully curated selection of best practices which impact global settings through local change-making. 
DO YOU KNOW ABOUT ANY OTHER GREAT PROJECTS THAT DO THEIR PART IN ADDRESSING CLIMATE CHANGE?
Nominate them to the Innovation in Politics Awards here.
Have you implemented one such project yourself? Submit it here, to our fifth edition of Innovation in Politics Awards.
If you need more inspiration or some extra help with your application, check this guide for submitting your project!