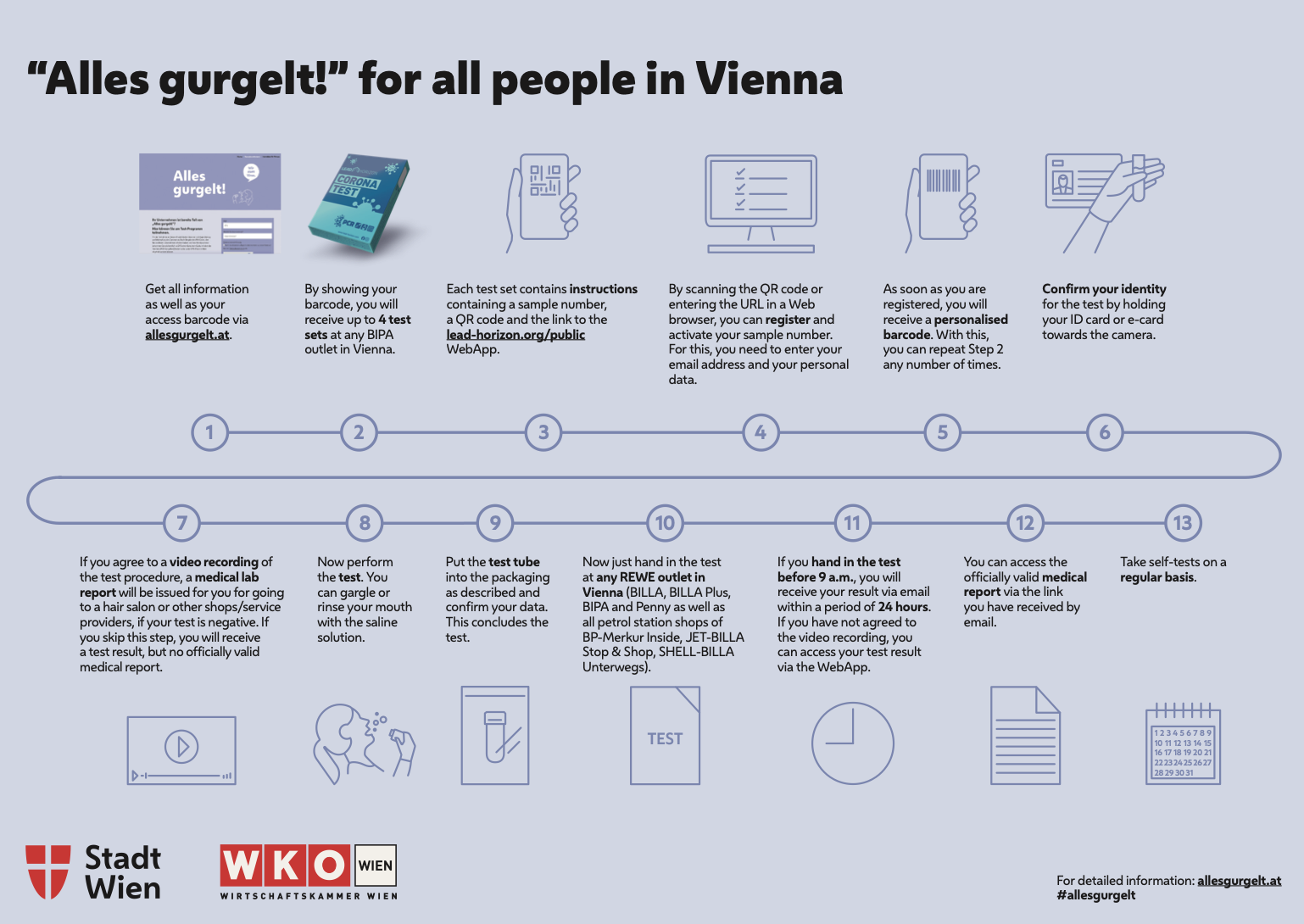 Effective collaboration means that free and accurate PCR home testing kits are available for everyone living, working or studying in Vienna, enabling regular and convenient testing for COVID-19 which gives results within 24 hours.
Free home gargle test kits for everyone
COVID-19 has had a significant influence on our lives for more than a year. People have the ability to safeguard themselves and others around them by undergoing frequent testing. The City of Vienna's vast variety of testing has been supplemented with simple, convenient, and safe PCR-at-home assays. PCR mouth rinse/gargle testing for COVID-19 are available free of charge to anybody who lives, works, or attends school in Vienna. Citizens are safe, and social, economic, and cultural life may be normalised, if this procedure is repeated on a regular basis.
QUICK AND CONVENIENT TESTING
With Alles Gurgelt! (Everyone Gargles!) people can register online to get a barcode and pick up test kits in any of the over 150 drugstores in Vienna. The patented test set is accompanied by a webApp to collect the necessary data and to ensure the test is carried out correctly. After performing the test at home, people can hand in the sample at over 600 supermarkets, drugstores and gas stations. The postal service collects the samples all over the city and transfers them to the laboratory. With pooling methods and very structured processes, the laboratory can handle up to 400,000 samples every day. The tested person then receives the result within a period of 24 hours via email.
NORMALISING SOCIAL, ECONOMIC AND CULTURAL LIFE
Fast and convenient tests are an effective means of fighting the COVID-19 pandemic. Alles Gurgelt! is a reliable test which gives an accurate PCR result. The collaboration of the project partners (test-set developers, laboratories, supermarket chains, the postal service, the hotline and project management) ensures that results are available in a maximum of 24 hours. The joint goal of the project is to prevent lockdowns, normalise social, economic and cultural life and reduce the workload of hospitals and medical staff. The City of Vienna has made the process easy, fast and reliable so that everyone in the city can take regular tests.
Project owner
Peter Hacker
Executive City Councillor for Social Affairs, Public Health and Sports