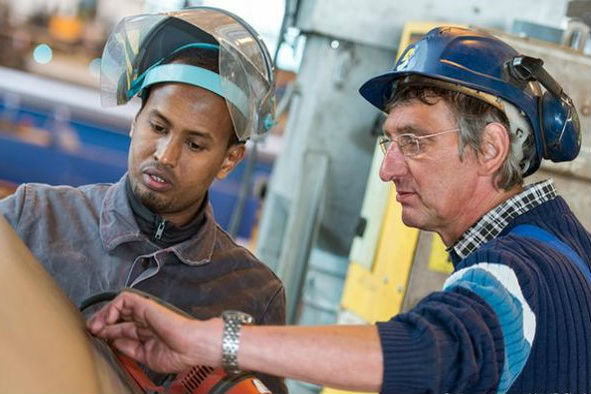 Citizens enable the integration of refugees in a small town in Western Austria by providing language training and job orientation.
CITIZENS PROTECT REFUGEES
Engagement by citizens and numerous negotiations with authorities prevented the deportation of a group of refugees to Hungary. Under the slogan 'We are active', almost 120 citizens protected refugees by organising a human chain and providing countless services.
PEOPLE SUPPORT EACH OTHER AND PRESERVE HUMAN DIGNITY
"Preserving the human dignity of refugees and organising self-help for accelerated integration into society and the labour market." This slogan describes the initiative in a nutshell. Mobilising citizens as mentors for tasks, such as language learning or job orientation, was key to successful integration work. The initiative aims to help people to help themselves.
THE ESTABLISHMENT OF AN OFFICE
An office was established and staffed with refugees on a voluntary basis, with engaged citizens supporting them. The office's main tasks were to organise volunteer work by refugees for the local population and job orientation visits for refugees in local companies. For job orientation, a comprehensive concept was worked out based on the principle of traineeship. After actively involving refugees, the project changed its name to 'We are active' (Wir sind aktiv) for good.
Project owner
Angelika Schwarzmann
Mayor of the Municipality of Alberschwende