The members of the ACT NOW Mayors' Network drive local action and are not afraid to break new ground. They have successfully implemented innovative projects in their municipalities. We highlight and present these projects to inspire other local leaders to take bold action.
The Innovation in Politics Institute provides access to a treasure of around 400 best practices, covering a broad range of local solutions. A new process of inter-municipal learning supports members to translate best practices into tangible and sustainable local action. Therefore, we identify the best practices which are most relevant to specific members based on their individual needs. As a tool for scaling and implementing best practices to individual local contexts, we develop best practice prototypes. Committed municipalities take part in a holistic process which allows them to successfully plan, implement and monitor local action. To support this process, municipalities can also apply to host an ACT NOW Local Change Lab in their municipality.
Learn more about projects implemented by members of the ACT NOW Mayors' Network: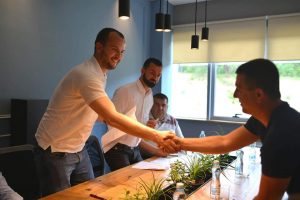 To overcome the language barriers in Kosovo, the Municipality of Kamenica holds courses for the Serbian and Albanian citizens who are interested in learning each other's languages.
Read More »