There are many engaged young people across communities who want to contribute to improving municipalities, supporting members of the community and actively participating in societal life. Young people make crucial contributions to our communities and are empowered by participating, evolve their ideas of citizenship, enhance personal development and active involvement in society.
However, for many, the barriers to active participation are high and often hidden under layers of complexity. Sometimes, a lack of true interest from decision-makers in meaningfully involving youth and also a hesitance towards top-down structures are real challenges young people face in civic participation. Therefore, it is increasingly important that local politicians institutionalise youth participation and factor in that this process goes hand in hand with structures and mechanisms that encourage young people to get involved.
Today, we present you with a selection of youth participation and youth empowerment projects in municipalities, from our Showroom of best political practices.
All these projects have in common the premise of active, engaged young people, who are eager to participate and actively contribute if they have the tools to do so. All these projects further have in common the fact that decision-makers have realised that traditional top-down structures are not enhancing but rather hindering young people to get involved and therefore have decreased barriers for participation.
These initiatives make participation an easy-access and fun process, in which young people can join, improve their communities while growing and learning about life, team work, purpose, and about themselves in the process.
What is common to all these projects?
Active citizenship for young people is supported
They all create barrier-free or low-barrier structures for participation
All projects deal with participation questions that concern primarily young people – thus, they take into account to young people's decision-making
All these projects allow open participation – meaning rather focus on allowing participants to design their own journeys.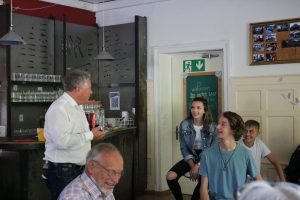 The digital democracy platform helps young people in Switzerland to engage in the political debate in a meaningful way.
Read More »
In our Showroom we present exemplary political projects which successfully address today's challenges. Each month, we offer you a carefully curated selection of best practices which impact global settings through local change-making. 
DO YOU KNOW ABOUT ANY OTHER GREAT PROJECTS THAT DO THEIR PART IN ADDRESSING CLIMATE CHANGE?
Nominate them to the Innovation in Politics Awards here.
Have you implemented one such project yourself? Submit it here, to our fifth edition of Innovation in Politics Awards.
If you need more inspiration or some extra help with your application, check this guide for submitting your project!