The International Day of Democracy, which is celebrated yearly on the 15th of September, grants us a chance to re-assess the global condition of democracy. Democracy is a process as well as a goal, and it can only be realized with the full participation and support of the international community, national governing bodies, civil society, and people.
The principles of holding periodic and legitimate elections by universal suffrage, as well as the ideals of liberty and respect for human rights, are critical aspects of democracy. As a result, democracy creates an atmosphere conducive to the preservation and effective implementation of human rights.
Since 2017, The Innovation in Politics Awards have honoured 598 people who are at the forefront of political innovation and who pioneer democratic best practices. With this Award, The Innovation in Politics Institute gives visibility to the best political minds in Europe, provides them with a platform to present their innovative projects, and facilitates best practice exchange across borders.
Today, we celebrate a wealth of innovation-driven projects in the category Democracy, and embrace the power of political best practice to generate positive change in cross-border settings of citizen empowerment and engagement: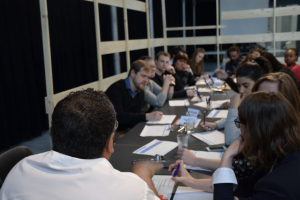 A system in Brussels engages citizens, allowing residents from different language groups to discuss their ideas and perceptions of the city, and to bring them into the political decision-making process.
Read More »
In our Showroom we present exemplary political projects which successfully address today's challenges. Each month, we offer you a carefully curated selection of best practices which impact global settings through local change-making.